SHERRILYN IFILL TO SERVE AS PENN STATE DICKINSON LAW'S ANTIRACIST DEVELOPMENT INSTITUTE INAUGURAL CONVENING KEYNOTE SPEAKER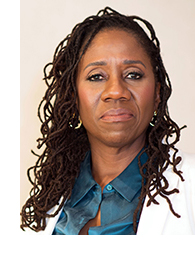 October 2023 — Penn State Dickinson Law is pleased to announce Sherrilyn Ifill, Vernon E. Jordan, Jr., Esq. Endowed Chair in Civil Rights at Howard University School of Law, as the keynote speaker at the Antiracist Development Institute (ADI) Inaugural Convening, held from October 11 – 14.
Ifill is a civil rights lawyer and scholar. She served as the President and Director-Counsel of the NAACP Legal Defense and Educational Fund, Inc. from 2013-2022. Ifill is currently a Distinguished Professor of Practice at Harvard Law School teaching a Fourteenth Amendment seminar. She was appointed as the inaugural Vernon E. Jordan, Jr., Esq. Endowed Chair in Civil Rights at Howard University School of Law in June 2023, and she will begin that position in the spring of 2024.
"It is an incredible honor to host Professor Sherrilyn Ifill, a luminary and towering figure in civil rights law and litigation, racial justice advocacy, and political activism," said Danielle M. Conway, Dean and Donald J. Farage Professor of Law. "Professor Ifill is the embodiment of zeal, authenticity, and earnestness in the pursuit of the power and promise of the Reconstruction Amendments for a just and fair society for all. We are indebted to her for courageously taking up the mantel of freedom and equality for every member of American society, especially those who are most vulnerable."
The keynote presentation will take place during Dickinson Law's Race and the Equal Protection of the Laws class on Friday, October 13. The Race and the Equal Protection of the Laws class, a requirement for first-year students, invokes critical theory and critical pedagogy, aiming to transform how students see their place and role in an imperfect and still-evolving democracy. Attendees of the ADI Inaugural Convening will join the class for Ifill's keynote presentation.
"This session will focus on education and will include presentations from Associate Dean Jeffrey Dodge and Professors Andrea Martin and Lucy Johnson-Walsh. Professor Ifill's remarks offer an invaluable opportunity for our students to see this area of the law in action, given her perspective as a practicing attorney. I am extremely excited for the moderated conversation that Professor Ifill will have with Assistant Dean Giselle Santibañez-Bania and Black Law Students Association President Romario Ricketts '25," said Shaakirrah Sanders, Associate Dean for Antiracism and Critical Pedagogy.
The ADI Convening will welcome colleagues from across the country, from inside and outside of the legal profession, to learn about, engage with, and implement institutional antiracism using a systems design approach. There will be three cohorts offered: admissions and financial aid; teaching and learning; and leadership.
"This inaugural convening is an opportunity for all our colleagues who have been working on the 'Building an Antiracist Law School, Legal Academy, and Legal Profession' book series to come together and cast a collective vision of what's possible when we apply systems design methodology to the eradication of racism inside and outside of the legal academy and legal profession," said TaWanda Hunter Stallworth, Program Manager for the ADI. "Professor Ifill is a standard bearer in the sphere of justice and equity for all people and we are honored to host her as a part of this gathering."
Ifill is a prolific scholar and a nationally recognized expert on voting rights and judicial selection. She was appointed to President Joe Biden's Commission on the Supreme Court. In 2021, TIME magazine named her one of the 100 most influential people in the world. She is a recipient of the Radcliffe Medal, the Brandeis Medal, the Thurgood Marshall Award from the American Bar Association, and The Gold Medal from the New York State Bar Association.
Ifill received her Bachelor of Arts from Vassar College, and a J.D. from New York University School of Law. Following law school, she served as a Fellow at the American Civil Liberties Union in New York and served for five years as an Assistant Counsel litigating voting rights cases at the NAACP Legal Defense Fund.
To learn more about the ADI Inaugural Convening, please visit the Antiracist Development Institute website.