DICKINSON LAW ANNOUNCES ANTIRACIST DEVELOPMENT INSTITUTE PROGRAM MANAGER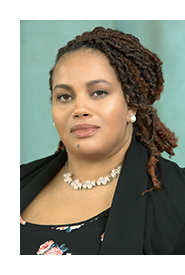 April 2022 — Penn State Dickinson Law is pleased to welcome TaWanda Hunter Stallworth, MDiv, as the program manager for Dickinson Law's new Antiracist Development Institute (ADI). The ADI is designed to offer organizations across the country systems design-based approaches to implementing antiracist practices, processes, and policies, and will run its first prototype course in fall 2022.
"I am delighted to welcome Ms. Stallworth to Dickinson Law. Her experience as a racial justice advocate across both the nonprofit and government sectors makes her uniquely qualified to manage the Antiracist Development Institute, and I look forward to working with her to perpetuate systemic equity throughout the legal academy and the legal profession," said Dickinson Law Dean and Donald J. Farage Professor of Law Danielle M. Conway.
In her role, Stallworth will oversee the launch of the ADI, as well as the rollout of an eight-to-ten-volume book series, titled "Building an Antiracist Law School, Legal Academy, and Legal Profession," which will be edited by Dean Conway. This series will serve as the curriculum foundation for the ADI and will feature the work of over 80 contributors from across the country.
"This takes Diversity, Equity, and Inclusion efforts up a notch — to dismantle systems and structures that have done the most harm, beginning with the very institutions that have educated people on how to uphold them," said Stallworth.
A native to Carlisle, Pennsylvania, Stallworth has been actively involved in many racial justice projects throughout the region, including serving as the Criminal Justice Co-chair for the Lancaster NAACP, serving on the Board of Directors for both the Lancaster and Carlisle YWCAs, and leading the effort to rededicate Lincoln Cemetery (Memorial Park). She currently serves as a Board Member for the LGBT Center of Central Pennsylvania and as Co-Chair for the Truth & Reconciliation Commission for the Borough of Carlisle.
Much of Stallworth's work has been inspired by the legacy of her great-grandmother, Fleta Jordan, who worked as a domestic in Carlisle.
"My great-grandmother worked as a domestic for a family less than two blocks from where Dickinson Law sits. Domestic by day and fierce advocate by night," Stallworth said, referring to Jordan's petitioning of the court in 1972 to preserve the ground at Lincoln Cemetery.
Stallworth is a lifelong member of the African Methodist Episcopal Church, which she credits for her deep-rooted commitment to justice and equity for all people.