News and Notes
Dickinson Lawyer
Dickinson Lawyer is the official publication for alumni and friends of Dickinson Law. If you are not receiving this digital publication, email dickinsonlawalum@psu.edu to subscribe.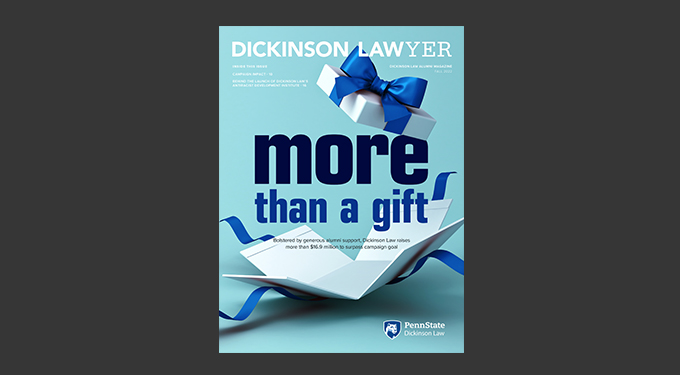 To view and download the Fall 2022 issue of Dickinson Lawyer, click here.
Practice Greatness Defined
Delivered to your inbox on a monthly basis between September and May, this e-newsletter highlights the latest happenings at your alma mater. If you are not receiving this publication, complete this form to subscribe.
Also, be sure that dickinsonlawalum@psu.edu is an approved sender in your email account by adding this email address to your contacts.
Submit Class Notes
New job? A significant achievement or honor? Keep the Dickinson Law family up to date with your latest news! Complete this form to share your most recent achievements and milestones with your fellow alums.
Update Contact Information
To ensure you are receiving the latest news and event announcements, please update us with your most recent contact information.