Andrea J. Martin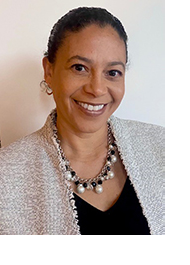 Adjunct Professor of Law

Email: amm7370@psu.edu
About Martin
Andrea J. Martin is an adjunct professor of law who teaches Introduction to the United States Legal System and Legal Writing and Analysis to LL.M. students. Professor Martin has extensive business law experience and spend over a decade working at Ahold USA, Inc., (parent company of Giant Food Stores). During her career at Ahold, she collaborated with business leaders across a wide range of legal areas including employment law, contracts, consumer protection, and regulatory compliance. She advised CEOs and executive boards, led strategic diversity plans as the Multicultural Affairs Officer, and represented the company globally in corporate responsibility.
Prior to entering business law, Professor Martin served as a Special Assistant Attorney General in the Appellate Division of the Rhode Island Department of Attorney of General. Her main responsibilities included drafting appellate briefs and presenting compelling arguments before the R.I. Supreme Court, the U.S. District Court for the District of Rhode Island, and the United States Court of Appeals for the First Circuit.
Professor Martin has served on the boards of many nonprofit and community development organizations including the YMCA, Caritas House and Pink Out, Inc. She is involved in diversity and inclusion efforts and served on the Governor's Task Force on Diversity, the Governor's Commission on Prejudice and Bias and the Thurgood Marshall Lawyer's Society. She also teaches legal writing in the CLEO (Council on Legal Education Opportunity) program, recently hosted by Penn State Dickinson Law, to increase the number of lawyers from diverse backgrounds.
Professor Martin received her J.D. from Howard University School of Law, MBA from Suffolk University, and Bachelor of Arts in History from the University of Rhode Island. Her interests and hobbies include art history, Holocaust studies and writing.