A HOLIDAY MESSAGE TO THE PENN STATE DICKINSON LAW COMMUNITY FROM DEAN AND DONALD J. FARAGE PROFESSOR OF LAW DANIELLE M. CONWAY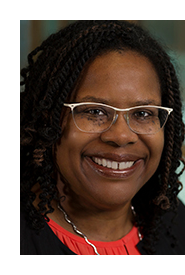 As we enjoy this holiday season and prepare to welcome the New Year, I reflect on the many ways Dickinson Law has been elevated by the extraordinary alumni, faculty, staff, students, and friends who embody our Practice Greatness ethos.
With extreme diligence and a resolute commitment to the health and well-being of each member of our community, we successfully balanced Covid safety protocols with a return to in-person instruction, opportunities to welcome alumni back to campus, and small but uplifting faculty, staff, and student gatherings designed to restore and preserve the robust foundation of community on which Dickinson Law is built.
Together, we celebrated milestone successes that included the investment of alumni and friends like Steven and Leslie Coren—whose $1 million gift to the Law School brings us within striking distance of our campaign goal to raise $16.4 million by June 30, 2022—and everyone who helped put Dickinson Law at the top of the University's GivingTuesday leaderboard; the launch of our Antiracist Development Institute, a collaboration that will change the structure of the legal academy and profession; student achievements, like our Region 3 first-place finish in the New York City Bar Association's 72nd National Moot Court Competition; and faculty impact, like the work Professor Medha D. Makhlouf will do as one of three inaugural Virtual Community Ambassadors for the Collaborative for Health Equity: Act, Research, Generate Evidence (CHARGE) of the Association of American Medical Colleges (AAMC). Day after day, I am humbled and uplifted by the ways we continue to care for one another while sustaining our mission of excellence in legal education. And I remain in awe of—and incredibly grateful for—the genuine love and appreciation our Dickinson Law alumni have for their alma mater. Thank you all for making Dickinson Law a place I am proud to call home. I wish each of you and your families happiness, health, and peace this holiday season.
With gratitude,