PROFESSOR MAKHLOUF SELECTED AS AAMC CHARGE VIRTUAL COMMUNITY AMBASSADOR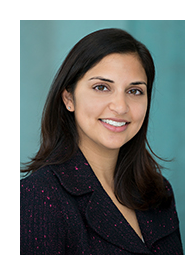 December 2021 — Professor Medha D. Makhlouf was recently selected as one of three inaugural Virtual Community Ambassadors for the Collaborative for Health Equity: Act, Research, Generate Evidence (CHARGE) of the Association of American Medical Colleges (AAMC). In this role, Professor Makhlouf will be responsible for co-facilitating discussions, events, and collaborations in the AAMC CHARGE virtual community.
The AAMC CHARGE is a project of the AAMC Center for Health Justice, and it aims to bring together academic health centers and multisector and community partners to:
Prioritize health equity research, action and policy change.
Partner with communities, families, patients, and sectors outside health care to address the many factors that contribute to a community's health.
Advocate for structural changes that address the root causes of health inequities.
In her application for the position, Professor Makhlouf explained that she was interested in the position because she wanted to help cultivate communities committed to advancing health equity. The CHARGE Community Managers informed Professor Makhlouf that she was selected "based on [her] experience and passion," and that they believed that her "law background and experience improving immigrant communities' access [to health care] would be an asset to our team and virtual community."
The AAMC CHARGE provides Virtual Community Ambassadors with training to improve their virtual management and engagement skills, opportunities to build relationships with health equity stakeholders, a platform for driving conversations about health equity and justice, and financial support for professional development opportunities that relate to the AAMC CHARGE mission.
---
Professor Medha D. Makhlouf is an Assistant Professor and Founding Director of the Medical-Legal Partnership Clinic at Penn State Dickinson Law. She has a joint appointment in the Department of Public Health Sciences at Penn State College of Medicine. Professor Makhlouf's research and teaching interests lie at the intersection of health law, immigrants' rights, and poverty law and policy. Her recent scholarship has been published in the New York University Law Review, the California Law Review Online, the Northwestern University Law Review Online, and the American Journal of Law and Medicine.