PENN STATE DICKINSON LAW ANNOUNCES PLANS FOR ANTIRACIST DEVELOPMENT INSTITUTE
November 24, 2021 — Penn State Dickinson Law will further recent faculty action to lead Antiracism efforts by creating an Antiracist Development Institute (ADI), a program offering organizations across the country systems design-based approaches to implementing antiracist practices, processes and policies throughout each of their functions.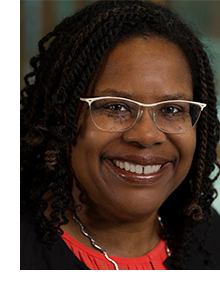 The ADI will run its first prototype course in summer 2022, concurrent with the debut of a phase-one rollout of selected volumes from the eight- to ten-volume book series, titled "Building an Antiracist Law School, Legal Academy, and Legal Profession," which will be edited by Dickinson Law Dean and Donald J. Farage Professor of Law Danielle M. Conway.
The missions of the institute and book series align with the University's Strategic Plan, which includes a foundational pillar aimed at "Advancing Inclusion, Equity, and Diversity." Penn State President Eric J. Barron has pledged to contribute to the initial seeding for the institute, which advances the work of the Select Penn State Presidential Commission on Racism, Bias and Community Safety. Conway serves as a co-chair of the commission.
Dickinson Law has received gifts to launch the ADI from LSAC (the Law School Admission Council), whose mission is to support diverse, talented individuals from prelaw through practice; and AccessLex Institute, a nonprofit that helps talented law students become professionals. Each organization is providing charitable grant funding for the project over three years. The National Association for Law Placement (NALP) has also stepped forward with funding to support the initiative.
To date, institutions and private donors have committed a total of more than $1 million to launch the ADI. Barron has allocated annual support of $90,000 in institutional funds for the next five years (the equivalent payout on a $2 million endowment) to support the initiative while efforts are underway to secure private gifts to build an endowment that will generate ongoing support.
"This is a fantastic opportunity to get these organizations working together in furtherance of Antiracist education and galvanizing support across the legal academy," said Conway. "This is not a quick, out-of-the-box project. Rather, this is a long-term project with systems design approaches focused on rebuilding legal education architecture from the frame of systemic equity. It will take time and commitment, and institutions must be willing to fail so they can ultimately succeed."
Barron affirmed the value of the ADI to the University as a whole, saying, "Penn State is proud to support the ADI and Dean Conway in leading this important effort to reimagine the role of law schools in higher education and in our society, and we are grateful to the other organizations and donors who have stepped forward with support as well. By creating more equitable academic communities of legal professionals and scholars, both present and future, the ADI can be a force for change that will reverberate far beyond the campuses of the participating law schools and across the nation."
As Dickinson Law embarks on this massive project, the institution invites individuals interested in participating as chapter contributors, systems designers, content reviewers, and/or workshop facilitators to complete the "Antiracist Book Series Involvement" survey before it brings the content online for use during the first beta test cohort of the ADI in early 2022. While more than 80 colleagues inside and outside of the legal academy have already signed on to write chapters for the book series, Conway intends to involve as many contributors as possible to write additional chapters, review chapters, and workshop chapters before bringing the content online for use during the first beta test cohort of the ADI in early 2022. Conway proposed the eight- to 10-volume book series to guide a collective movement among the approximately 200 American law schools to embrace Antiracism as a core value for teaching and learning, with the goal of perpetuating systemic equity throughout the legal academy and the legal profession.
The ADI builds on the concepts and information presented throughout the book series to provide law schools and other institutions with a starting blueprint that will be workshopped through the stages of systems design. Teams of participants will actively ideate, prototype, test, implement and assess their collective approaches to developing Antiracist practices, policies and procedures that will permeate each function of the organization. The process is meant to be iterative, creating negative know-how from failure and positive know-how from success, all of which can be referenced when moving to disrupt systemic inequity in another function of the organization.
"LSAC applauds Dean Conway and Dickinson Law for leading this important initiative of developing a blueprint for building an Antiracist law school from which all law schools may benefit," said Kellye Testy, LSAC president and CEO. "We call for continued momentum toward diversity, equity and inclusion in legal education and in all aspects of American life, and we are pleased to be part of this effort."
Christopher P. Chapman, president and chief executive officer of AccessLex Institute, said, "We are pleased to offer a grant to support the creation and initial operations of the Antiracist Development Institute. It is a noteworthy initiative that aligns with the many projects we operate or fund in pursuit of our mission to increase the access, affordability and value of legal education for all."
Conway said faculty and staff at Dickinson Law want to foster innovation in the space to encourage other institutions to continue with their efforts.
"We want to bring in organizations' leadership teams to pilot the blueprints that we have designed for building an Antiracist law school," said Conway. "We will collect data from participants, analyze that data and disseminate information about our results and what we have learned from the experiences of participants, leadership teams and their institutions."
"NALP has long championed the fight for greater diversity, equity and inclusion in the legal profession, but over the last two years, we have all seen that our collective historic efforts have not been enough," said James G. Leipold, executive director of NALP. "NALP is committed to redoubling our efforts to provide greater access, support and development opportunities for law students and lawyers of color, and in particular to supporting and promoting the careers of Black law students and lawyers. As part of that commitment, we are thrilled to join with Dickinson Law and our peer organizations in legal education to launch and support the Antiracist Development Institute and the accompanying book series."
Conway envisions participation in the institute as a long-term commitment. "The participants will constantly be ideating, examining results, assessing and practicing Antiracism," said Conway. "The active engagement with Antiracism is intended to build muscle memory with participants and leadership teams for the purpose of scaffolding systemic equity throughout their respective organizations."
The institute and book series further Dickinson Law's leadership in Antiracist law school education. Conway was invited to serve on the AccessLex Institute Board of Directors following her work with four other African American women who serve as law school deans to establish the Law Deans Antiracist Clearinghouse Project in 2020 in the wake of George Floyd's murder.
Shortly after co-curating the Law Deans Antiracist Clearinghouse Project, Conway and a team of her Dickinson Law faculty and administrative colleagues published three interdependent articles documenting the Dickinson Law approach to building an Antiracist law school. Conway and her colleagues presented these articles at the Rutgers Race and Law Review Symposium in a presentation titled "Building an Antiracist Law School."
The feedback from the symposium was overwhelmingly positive, with colleagues requesting information about "how" Dickinson Law was able to make such impactful changes with admissions, curriculum and teaching and learning. University of California Press Senior Editor Maura Roessner attended the symposium and asked Conway for a meeting, where the book series idea was hatched.
UC Press will begin publishing the book series next year. "I want participation in writing the series from across the legal academy, the profession and disciplines and professions adjacent to the law," said Conway. "I want people who have never thought about an Antiracist law school to contribute and to know that they are going to be supported in those contributions."
Roessner said, "I am thrilled and awed to be working side-by-side with Dean Conway on this ambitious and transformational book series. Her vision, leadership and can-do approach will guide the development of this complete Antiracist toolkit. UC Press is honored to be the publishing partner for such a bold initiative and such an esteemed array of collaborators and supporting organizations."