DICKINSON LAW SURPASSES CAMPAIGN GOAL BY RAISING MORE THAN $16.9 MILLION
July 2022 — With the final gift logged on June 30, the last day of a six-year campaign across the University entitled A Greater Penn State for 21st Century Excellence, Penn State Dickinson Law more than achieved its goal.
The Law School raised more than $16.9 million, bettering its aim of $16.4 million and showing donors' commitment to educating the next generation of lawyers through accessible, innovative curriculum and programming. The campaign received gifts from 1,824 people, including significant participation from the alumni base, with 1,204 unique alumni donors.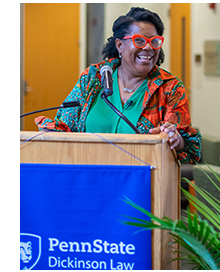 Dickinson Law Dean and Donald J. Farage Professor of Law Danielle M. Conway said the significant success of the campaign reflects alumni's deep belief in the relevance and importance of Dickinson Law. She praised their generosity and dedication to uplifting the students of today and tomorrow.
"This campaign is about a belief in the Law School and a renewed sense of loyalty," said Conway. "The giving has been dynamic, and it has grown on itself. We have seen recent alumni, alumni who graduated decades ago, and many other people offering their support."
The campaign started when Emeritus Dean and Professor of Law Gary S. Gildin, the Hon. G. Thomas and Anne G. Miller Chair in Advocacy and director of the Center for Public Interest Law and Advocacy, was dean of Dickinson Law, a position Conway assumed in 2019. Gildin said he was impressed and touched by the level of giving, notably the number of scholarship commitments secured during the campaign.
Over half of the campaign gifts — more than $9.8 million — went to student scholarship support. The University offered a 17-month, first-of-its-kind Graduate Scholarship Matching Program early in the campaign, pledging a 1:1 match for all new graduate scholarships created with gifts of $125,000 or more. In that narrow window, Dickinson Law received 23 new scholarship commitments.
"We almost doubled the number of gifts of that magnitude, at the $125,000 or more level, that had been received through the entire history of the Law School," said Gildin. "This represented more new Graduate Scholarship commitments than any other Penn State unit. That reflects on our stature within the University but also how historic these gifts were to the continuance of the Law School's journey."
The campaign outcome included gifts of all types and sizes. The campaign's priorities centered around opening doors, providing students with transformative experiences, and creating opportunities to impact the world. Donors could support endowed or current-use funds, pledge commitments over a period of up to five years, and structure their giving in ways that met both their philanthropic priorities and their personal goals, including outright gifts of cash or securities to bequests, beneficiary designations, trusts, or a combination of giving vehicles.
Dusty Elias Kirk (class of 1979), who served as Dickinson Law's volunteer campaign chair, was impressed by the creativity and variety displayed by donors' gifts. "I enjoyed working on the campaign and seeing how people chose to give. There is just something different and special about Dickinson Law," said Kirk. "The people who went there feel they got so much from it. We all made really good friendships that have stayed with us until today. We learned things that allowed us to excel in our own careers. And we all want to support that."
Other new initiatives funded during the campaign included the creation of the Antiracist Development Institute (ADI), the most well-funded program with more than $1.59 million in gifts and pledges, and the Steele Family Leadership Program in Gender and Racial Equity, established by the late J. Rodman "Rod" Steele (class of 1966); his wife, Karen; their son, Kevin (class of 1992); and Kevin's wife, Tracy (class of 1995).
Conway noted such gifts reflect the affection and esteem alumni continue to feel toward Dickinson Law. "Alumni giving makes the Law School legitimate to its students and to society," said Conway. "When alumni give, especially in support of the current leadership, what they are saying is they support the platform we stand on, and it makes everyone feel confident that we are headed in the right direction, and we are engaged in the right work. It means absolutely everything to us."