STEELE FAMILY ESTABLISHES LEADERSHIP PROGRAM IN GENDER AND RACIAL EQUITY AT DICKINSON LAW
October 28, 2020 — J. Rodman "Rod" Steele, a 1966 graduate of Dickinson Law, believes the law gives society the opportunity to improve. He has seen many improvements and advances in women's and civil rights during his more than five decades of legal practice, which spans the swearing-in of the first African American Supreme Court justice and the recent prosecutions of powerful men for sexual assault.
But Steele also knows that progress does not equal perfection.
"I think it is important to celebrate the progress we have made, but it is more important to focus on the work that is not done yet," said Steele. "We need law schools taking a leadership role in preparing attorneys for the future because there is still a lot to be done."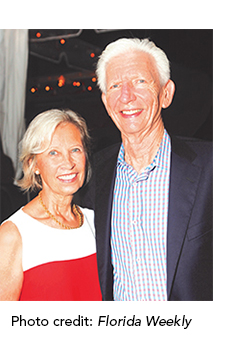 Steele and his wife, Karen, have supported this work at Dickinson Law by endowing the Steele Family Scholarship. With their latest impact gift to Dickinson Law, the Steeles hope to have even greater impact.
They recently established the Steele Family Leadership Program in Gender and Racial Equity, which will provide funds to promote diversity, equity, and inclusion initiatives; support victims' rights (particularly those of women of color); and seek solutions to race and gender injustice and inequities through programming and research focused on the intersectionality of gender and race. 
The Steeles honed the vision for the program during discussions with Dean and Donald J. Farage Professor of Law Danielle Conway and Director of Development and Alumni Affairs Kelly Rimmer throughout the past year. To create the endowment, Rod and Karen transitioned the existing scholarship endowment into the new program endowment, terminated a trust and distributed those assets to the endowment, and made an additional outright gift, resulting in the new endowment of $500,000.
"I am simply in awe of Rod and Karen's continued loyalty and generosity," said Conway. "Their most recent gift recognizes our commitment to excellence in diversity, equity, and inclusion, and helps us to continue to prepare our students for the practice of law and for leadership—particularly as advocates for gender and racial equity."
A multifaceted commitment to education and change
Thanks to the endowed fund, the new program has the flexibility to support a range of needs to advance its mission, such as faculty or teaching fellows whose courses address racial and gender injustices; those whose research contributes to scholarly dialogue and facilitates the formulation of legislation that supports women who are victims of crime; and programming, lectures, seminars, workshops, as well as other forms of education for prosecutors and professionals who serve survivors' needs and who are committed to systemic change.
Because of the enduring nature of endowment support, this gift will continue to support efforts to achieve racial and gender equality into perpetuity.
"I know there is a great interest in the quick fix for racial and gender equity problems, but that just does not work," said Steele. "It has to be something much deeper, and it will probably take generations."
Steele, who has earned recognition by multiple organizations, awards, and publications for his expertise in intellectual property law, understands the value of sustained commitments and the results they can generate. He is a longtime donor and alumni volunteer who has lent his time to various leadership positions over the years, including as a member of the former Board of Governors, which helped to facilitate the merger with Penn State, and currently as a member of the Dickinson Law Leadership Council.
"Rod is a visionary alumni leader who has been integral to several pivotal moments in the history of Dickinson Law," said Rimmer. "It came as no surprise to me that he and the entire Steele family recognized an opportunity for Dickinson Law to fill a void and impact racial and gender inequities — and then provided the resources that will enable the Law School to do so."
Steele recognized the need for systemic change firsthand in 2018 while watching his son, Montgomery County District Attorney Kevin Steele, 1992, lead the successful prosecution of comedian Bill Cosby, who was convicted of three charges of sexual assault.
The elder Steele attended the trial and got to know several of the women who said Cosby had assaulted them, listening to their stories and marveling at their strength. Steele realized a case against Cosby probably would not have moved forward twenty or even ten years earlier because of systemic issues in criminal law.
"Embedded in this society are different doctrines and ways of doing things that pose a real challenge to achieving justice," said Steele. "I knew Dean Conway had been doing the work of intersectionality for years, and she has some wonderful ideas on how to address the difficulties women, and certainly women of color, have faced."
Upholding a family legacy
Reflecting upon the inspiration for his gift, Steele noted that his family has demonstrated a steadfast commitment to being part of a coalition to solve issues of significant import to the country, especially with respect to gender discrimination as well as threats to the sovereignty of the United States. Steele said that members of his family could always be counted on to lead on the thorniest issues that plague society. Steele, who was awarded a Bronze Star for his service in Vietnam, points to a history of military service among his family members as well as the family values of Tracy Steele '95, Kevin's wife, as the forces undergirding his activism.
"This program reflects what our respective families have been doing for the past 100 years, and it is a manifestation of where we are today," said Steele. "We can emphasize moving forward with the types of programs that really get at the heart of our problems."
In fact, as a complement to the new Steele Family Leadership Program in Gender and Racial Equity, Kevin and Tracy made a gift of $25,000 to the Educational Equity Matching Scholarship Program to create the Steele Family Leadership Program Educational Equity Scholarship at Dickinson Law.
Steele was also inspired to endow the program by the example of his aunt, who served as managing editor of the American Association of Home Economics (today known as the American Association of Family and Consumer Sciences) Journal of Home Economics for four decades, starting in the 1920s, at a time when few women prioritized their careers. Her articles and publications reached women in developing countries, some of whom would reach out to her for assistance. And although she never met most of them, Steele says his aunt was constantly in motion trying to do what she could to help.
Steele said this inspiration extended to current times as he watched his son prosecute cases where victims truly deserved protection of the law, from which they had been precluded for many years.
"We have to recognize that steps forward are sometimes not as big as you want them to be—but there have to be small societal steps forward, or you go backward. Look at the remarkable way society has changed for women today versus back in the '20s, when my aunt was making her way," said Steele. "Small steps move us ahead. We have a lot of goals related to racial and gender equality that we can realistically obtain at Dickinson Law with this program."
The Steeles' new commitments will advance "A Greater Penn State for 21st Century Excellence," a focused campaign that seeks to elevate Penn State's position as a leading public university in a world defined by rapid change and global connections. With the support of alumni and friends, "A Greater Penn State" seeks to fulfill the three key imperatives of a 21st-century public university: keeping the doors to higher education open to hardworking students regardless of financial well-being; creating transformative experiences that go beyond the classroom; and impacting the world by serving communities and fueling discovery, innovation and entrepreneurship. To learn more about "A Greater Penn State for 21st Century Excellence," visit greaterpennstate.psu.edu.