DICKINSON LAW HOSTS SUCCESSFUL LUTIE A. LYTLE BLACK WOMEN LAW FACULTY WORKSHOP AND WRITING RETREAT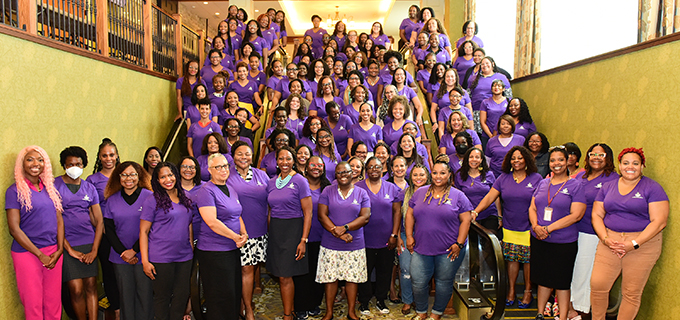 July 2023 — University of Colorado Law School Dean and Provost's Professor of Law Lolita Buckner Inniss attends many conferences and gatherings focused on legal scholarship and law school leadership each year. But there is something special about the Lutie A. Lytle Black Women Law Faculty Workshop and Writing Retreat that sets it apart from others.
"It is the kind of safe space where Black women can share things they simply cannot share elsewhere," said Dean Inniss. "I cannot see the groundswell of support and affirmation that happens at our plenaries anywhere else. There were years I worked in places where I had a limited budget, and Lutie was the only academic conference I attended. It is also one of the most rigorous scholarly conferences I have attended."
Penn State Dickinson Law recently hosted the 17th annual Lutie A. Lytle Workshop, which took place at Hershey Lodge June 22-25, as well as the writing retreat, which happened on Penn State Dickinson Law's Carlisle campus June 26-29. Boston University School of Law Dean and Ryan Roth Gallo & Ernest J. Gallo Professor of Law Angela Onwuachi-Willig founded the workshop in 2007.
"I love the values of Lutie and what it stands for. And I love my colleagues. The Lutie sisters are engaged in some deep, provocative, consequential research that needs to be part of mainstream conversations," said Penn State Dickinson Law Dean and Donald J. Farage Professor of Law Danielle M. Conway. "Not every institution has six Black women on faculty, as we do at Dickinson Law. As Black women, we are sometimes in spaces by ourselves. Some institutions do not even have a critical mass of people of color. That critical mass is important to being included in scholarly conversations."
Connecting Legal Scholars Across The Country
The workshop drew more than 125 participants from over 100 schools in California, Wisconsin, New York, Canada, and more. Dickinson Law's Antiracist Development Institute helped facilitate the event for current and aspiring Black women law faculty that honors Lutie A. Lytle. The daughter of enslaved parents, she became the first Black woman law professor in the United States in 1898.
"Whenever we sent emails to the registrants, it came from an email address that included Professor Lytle's name, and I would think about how unlikely it would have been for her to be teaching at Penn State during her time. Could she have even been admitted as a student?" said TaWanda Hunter Stallworth, program manager for the Antiracist Development Institute and an ex-officio member of several workshop planning committees. "And I think about that in terms of her impact and legacy. The number of Black women law faculty and deans has increased over the years. That exponential growth speaks to the need but also the appreciation for Black women in these roles."
A different school hosts the workshop each year. Dickinson Law Associate Dean for Antiracism and Critical Pedagogy and Professor of Law Shaakirrah R. Sanders chaired the Program Committee for this year's event. She also served as a co-chair of the 2019 workshop at the University Park campus, and she was honored with last year's Lutie A. Lytle Outstanding Scholar Award.
"My first Lutie in 2012 was an incredibly transformative experience. I had been teaching as a tenure-track professor for one year at the time, and the workshop prepared me for the second year of law teaching and beyond," said Sanders. "I had gotten accustomed to the legal profession just not being very diverse. It is hard to describe how exciting it was to even know such a workshop existed and then to go to it."
Dean Conway was tenured before Lutie started. Partially due to the geographic challenge of teaching in Hawaii for many years, she did not attend the workshop until 2022.
"Last year was the first time I felt like I could take time to engage in sistership at this level, and I immediately recognized that as Black women deans in positions of leadership, we must do everything in our power to support and sustain this network," said Dean Conway. "And so last year, even though I was new, I said, 'I am committing my law school to supporting this.' And that is what made me respond to the call for proposals to host."
Setting An Example For Students
The three-day workshop, themed "Sisters Engaged in Radical Self-Care," included an opening-night cocktail hour and dinner, sessions on subjects ranging from pampering yourself to beginning the job search, and a plenary discussion on law review article placement. Registrants also attended a lunch featuring guest speaker Dr. Janet Dewart Bell, a communications strategist and management consultant, and the Lutie Outstanding Scholar Award Dinner and Celebration.
Dickinson Law Assistant Professor of Law Andrea J. Martin, who co-chaired Lutie's Works-In-Progress/Incubators Committee, enjoyed the exchange of ideas and scholarship. She also liked that students saw Dickinson Law hosting the workshop. "Penn State Dickinson Law's involvement demonstrates its commitment to developing future legal scholars, which is important to our faculty and both current and prospective students," said Martin. "As a law school, we have made a real commitment to having a very diverse incoming class each year that looks to us to set an example. And this is just one of many ways that we do that."
The first Lutie workshop 16 years ago included only 25 women, all of whom had been invited to attend. The primary goal of the first workshop was decreasing the gap between the tenure rates of white men and women of color. Dean Onwuachi-Willig wanted to help Black women, particularly those on the tenure track, to have a safe space for receiving critical feedback on and developing their scholarship and for receiving insider advice on how to excel as a scholar, teacher, and community member in ways that made tenure a certainty.
Sixteen years later, that 25-women workshop has grown to a 125-person workshop and writing retreat. It continues to evolve each year. Speaking of the changes over time, Onwuachi-Willig said, "The focus of the conference has shifted away from solely focusing on helping junior women get tenure. With more and more women coming each year, it's become important for us to offer other panels and programs, like programs on becoming administrators or getting book contracts."
Onwuachi-Willig also spoke about the longevity of the program: "We've also worked hard to keep the community and workshop going. We could not have imagined we would be where we are now back in 2007. At the end of that first conference, we had a planning meeting to discuss our future. And we decided to keep the event and the formal support going, but we never imagined the family and the legacy that we have built and sustained for nearly two decades."
An Eye-Opening Experience
Howard University School of Law Associate Professor of Law Tuneen Chisolm attended her first Lutie in 2015 and returned this year after several years' absence. "I try to come when I can. The first one was just an eye-opening experience," said Chisolm. "It was exciting to find a group of Black women who understood the experience I'd had. Everyone is willing to be vulnerable and share constructive criticism and build you up in your writing and scholarship."
Some women stayed on after the workshop for the writing retreat, which relocated to Carlisle and interspersed writing time with group meals and wellness sessions. Dean Conway even hosted a dinner for writing workshop participants on the first night. She said the value of all that time together cannot be overstated.
"The whole workshop was an act of antiracism. It was saying that as a dean and a Black woman leader, I am in a position of proximity to resources. And I knew that proximity was important to support the work. To do anything other than act to support it would not align with our values at Dickinson Law," said Dean Conway.