PROFESSOR PRINCE IS AWARDED GRANT TO CREATE OPEN-SOURCE COURSE MATERIALS FOR HER ENTREPRENEURSHIP LAW: OPERATIONAL ISSUES COURSE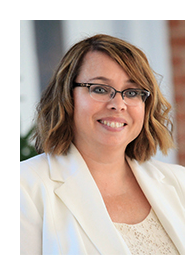 February 2022 — Professor Samantha Prince has been awarded a grant from the Penn State Teaching and Learning with Technology Innovation and University Libraries to undertake an Affordable Course Transformation for her Entrepreneurship Law: Operational Issues course.
As part of the grant, Professor Prince will create an open-source course book that will be available not only to Dickinson Law students but to anyone who would like to use the materials. Professor Prince received a similar grant in April 2020 to create a book entitled Entrepreneurship Law: Company Creation.
ACT@PSU is a provost-funded grant program designed to expand access to higher education through affordable course materials by developing openly licensed course materials that have the potential to break down barriers of affordability and accessibility not only for students in our Penn State Community, but also for students throughout the world.
---
Professor Samantha Prince is an Assistant Professor of Law and Director of Legal Analysis & Writing at Dickinson Law. She has a Master of Laws in Taxation from Georgetown University Law Center, and was a partner in a regional law firm where she handled transactional matters that ranged from an initial public offering to regular representation of a publicly-traded company. Most of her clients were small to medium sized businesses and entrepreneurs, including start-ups. An expert in entrepreneurship law, she established the Dickinson Law entrepreneurship program, is an advisor for the Entrepreneurship Law Certificate that is available to students, and is the founder and moderator of the Inside Entrepreneurship Law blog.