PROFESSOR DARYL LIM ELECTED TO MEMBERSHIP IN THE AMERICAN LAW INSTITUTE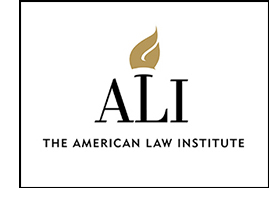 December 2022 — The American Law Institute (ALI) elected Professor Daryl Lim to its membership in December.
Formed a century ago, the ALI is the leading independent organization in the United States responsible for clarifying, modernizing, and improving the law. It drafts, discusses, revises, and publishes influential Restatements of the Law, Model Codes, and Principles of Law for judges, lawmakers, and scholars. It has been compared to the National Academy of Sciences and is a distinguished network of judges, lawyers, and law professors across the United States and abroad elected based on demonstrated excellence and outstanding professional achievement in their area of legal expertise. In the coming year, Professor Lim will serve on the Members Consultative Group for The Restatement of the Law, Copyright and may work on other ALI projects.
The ALI elects its members from confidential nominations submitted by ALI members. Among the newly elected ALI members are Professor Asli Ü. Bâli (Yale Law School), Benjamin Gruenstein (Cravath, Swaine & Moore LLP), Hon. (ret.) Thomas B. Griffith (Hunton Andrews Kurth LLP), Hon. W. Brent Powell (Supreme Court of Missouri), Hon. Rebeca Aizpuru Huddle (Supreme Court of Texas), Hon. Michael H. Park (U.S. Court of Appeals, Second Circuit), and Professor Jason A. Rantanen (University of Iowa College of Law).
"As 2022 comes to a close, I am pleased to welcome our final group of new ALI members," said ALI President David F. Levi. "In 2023, ALI will celebrate its 100th anniversary. We are moving into our second century at a time when the United States is divided on many issues and many Americans are skeptical of all institutions, including our courts and legal system. This makes our work all the more important, and our new members are essential to that work. It is only through the efforts of our talented, diverse, and dedicated membership body that we may continue our work protecting and preserving the rule of law. I look forward to our new members joining us in our mission as we look ahead to our second century."
Professor Lim's election brings representation by Penn State Dickinson Law at ALI to four members. The other ALI members are Dean and Donald J. Farage Professor of Law Danielle M. Conway, John Edward Fowler Distinguished Professor of Law Professor William E. Butler, and Professor of Law, Emerita and H. Laddie Montague Jr. Chair in Law Emerita Laurel S. Terry.
---
Daryl Lim is the H. Laddie Montague Jr. Chair in Law at Penn State Dickinson Law and Co-Hire at the Institute of Computational and Data Sciences at Penn State University. He also serves as Associate Dean for Research and Innovation and founding director of the IP Law and Innovation Initiative.
Professor Lim is an award-winning author, observer, and commentator on national and global trends in IP and competition policy and how they influence and are influenced by law, technology, economics, and politics. He helps policymakers, attorneys, corporate counsel, scholars, and the public to make sense of the world around them. He is a founding member of the Global IP Alliance and its local chapters in Pennsylvania and Illinois. In addition, he serves as Co-Chair of the University Education Committee in the US IP Alliance. In December 2022, the American Law Institute elected Professor Lim to its membership based on demonstrated excellence and outstanding professional achievement. He consults internationally on various IP and antitrust issues.