PENN STATE DICKINSON LAW CELEBRATES 2023 COMMENCEMENT
May 2023 — On Friday, May 12, 2023, Penn State Dickinson Law held commencement exercises in Dickinson College's Anita Tuvin Schlechter Auditorium (ATS).
Penn State Executive Vice President and Provost Dr. Justin Schwartz delivered opening remarks, and Dean Danielle M. Conway welcomed 2023 commencement speaker Lieutenant General Christopher F. Burne '83, United States Air Force (retired), who served as the 17th Judge Advocate General of the Air Force.
The day's ceremony recognized 75 J.D. candidates and five LL.M. candidates. Master of Laws (LL.M.) graduate Tayyab Tahir and J.D. graduate Heather Townsend offered remarks during the commencement ceremony. Prior to attending Dickinson Law, Tahir graduated with a law degree from University of Punjab in Lahore, Pakistan and a baccalaureate degree in political science from FC College, Lahore. Tahir noted that his family background in law has been the cardinal driving force for him to pursue it as a profession and that his career goal is to assume a role that enables him to analyze and interpret law related skills.
Proudly representing the class of 2023 as its J.D. student speaker, Townsend recognized the resilience of her fellow class members. "We started our law school career in 2020 — a time that I don't have to remind you all, was completely different from anything that we had ever experienced. Most of us applied to law school before the pandemic and then were faced with the choice of whether to enter into uncertainty, confusion, and at times, complete chaos. Every single one of us was brave, confident, and rose to the challenge that was thrust upon us. We didn't back away or wait until the storm passed. We adapted, we innovated, and we learned to stand up for each other, even before we'd ever had the chance to meet face to face," said Townsend. "All of you inspired me, with your teamwork, your kindness, and your care for each other when we were total strangers trying to learn how to navigate an entirely different world. We persevered, and we succeeded, both as a team, and as individuals."
David M. Kleppinger, Chairman Emeritus of Penn State Board of Trustees, conferred the degrees, which were presented by Amy C. Gaudion, Associate Dean for Academic Affairs and Professor of Lawyering Skills. Madelyn R. Snyder '22, delivered alumni association remarks and welcomed the graduates into the Dickinson Law Alumni Society of the Penn State Alumni Association.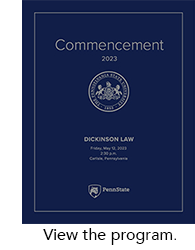 Members of the class of 2023 will launch their legal careers in a wide range of employment settings throughout the country, with almost twenty different states represented. Several will clerk for federal and state court judges; serve in government jobs, including City Law Departments and District Attorney's offices; in public interest organizations and Public Defender's offices; in corporations; and in large, mid-sized and smaller law firms.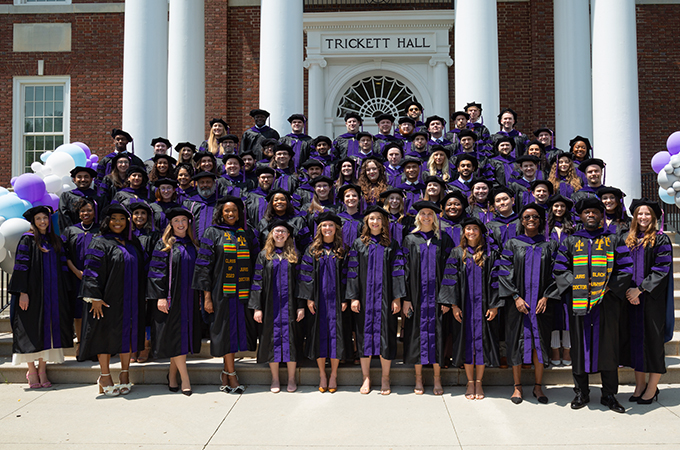 The class of 2023 is the 144th class to graduate from the Law School. Over the course of the Law School's long and distinguished history, more than 15,000 students have received degrees. Alumni include three United States senators; six governors; the first secretary of the U.S. Department of Homeland Security; the first woman to serve as chief judge of the United States District Court for the Middle District of Pennsylvania; more than 100 federal and state judges; the founder of one of the nation's leading law firms led by African-Americans; the first woman president of the Pennsylvania Bar Association; the first elected attorney general of Pennsylvania; and countless other leaders of the bar, bench, and their communities.
As the oldest law school in Pennsylvania and as one of the oldest law schools in the country, Dickinson Law's mission remains remarkably similar to its founding vision: to prepare students of law thoroughly for the practice of their profession. While remaining steeped in the tradition and values that have distinguished the Law School from its inception, Dickinson Law has redefined how it is preparing students to lead their profession in a competitive and evolving 21st century legal landscape. We fulfill and further our mission of Practice Greatness and our core values of teaching, scholarship, service, and community by equipping our students with the entire range of concrete skills necessary to excel as legal professionals at local, state, national, and international levels.