LT. GEN. CHRISTOPHER F. BURNE TO DELIVER COMMENCEMENT ADDRESS TO PENN STATE DICKINSON LAW CLASS OF 2023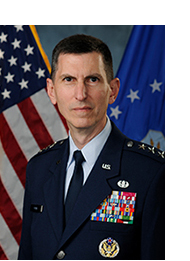 Lieutenant General Christopher F. Burne, United States Air Force (retired), served as the 17th Judge Advocate General of the Air Force. In that capacity, General Burne was the Legal Advisor to the Secretary of the Air Force, Chief of Staff, and all officers and agencies of the Department of the Air Force. He was responsible for the professional direction of 4,500 military and civilian attorneys, enlisted paralegals, and administrative civilians in The Judge Advocate General's (JAG) Corps. General Burne oversaw military justice, operational and international law, and all civil law and litigation activities, as well as the maintenance of professional and ethical standards within The JAG Corps. In addition to the Pentagon, Capitol Hill and White House, his official duties took him to 30 countries around the globe.
A native of Dunmore, PA, General Burne is a graduate of the University of Scranton, Penn State Dickinson Law, and the National War College. Following the lead of his father, a highly decorated World War II Eighth Air Force veteran, he was commissioned as a First Lieutenant in December 1983. In his 35 years of active-duty service, General Burne served in multiple assignments, including prosecutor and defense counsel, senior legal counsel at every level of command, vice-commander of the Air Force Legal Operations Agency, and director of the Air Force's Executive Issues Team. He twice deployed to the Persian Gulf region in support of Operations Desert Storm and Southern Watch. He was on duty in the Pentagon on September 11, 2001, during the terrorist attack, then served on the Crisis Action Team directing mobilization and response operations from the Pentagon's underground control center.
General Burne is a two-time recipient of the Air Force Distinguished Service Medal for exceptionally meritorious service to the United States government. He is admitted to practice law before the United States Supreme Court, the Court of Appeals for the Armed Forces, the Pennsylvania Supreme Court, and the District of Columbia Court of Appeals. General Burne currently serves on the boards of The Lincoln Forum and the Saint John XXIII Foundation. He is a life member of the Veterans of Foreign Wars and the American Legion, as well as numerous other non-profit and service organizations. He is now President of Charged With Excellence, a limited liability company he founded for leadership consulting and public speaking. He resides in Gettysburg with his wife of 34 years, retired Air Force Colonel Robin Pond Burne. They have two sons, Christian (DSL '17) and Connor, who are officers in the United States Army.