DICKINSON LAW SCHOLARS PRESENT AT 2022 AALS ANNUAL MEETING
January 2022 — The Association of American Law Schools (AALS) held their 2022 Annual Meeting on Freedom, Equality, and the Common Good from January 5-9. This virtual event provided participants with an opportunity to discuss how our legal system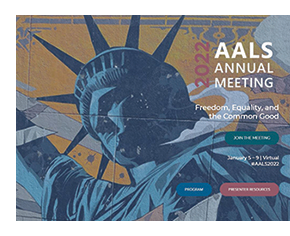 should deal with the realities of a post-pandemic world and explored how crafting a common understanding of what freedom means in a democratic society can be very complicated, particularly in the face of a crisis. Further discussion scrutinized how the executive powers used to enact sweeping public health restrictions and actions by employers to mandate vaccines during the pandemic could be interpreted as threats to our freedoms and how a rejection of those restrictions and employer mandates has had some devastating results: the emergence of new virus variants and a new surge of infections, hospitalizations, and deaths that fall disproportionately on the elderly, those of low and moderate income, and on communities of color.
This year's meeting offered 250 sessions with 900 moderators, speakers, and discussion leaders.
Numerous Penn State Dickinson Law scholars joined law faculty and deans from around the country to present at this exciting and informative event. This included:
Dickinson Law faculty and staff are also heavily involved in AALS year-round, holding the following leadership roles:
Jeffrey A. Dodge, Associate Dean for Academic and Student Services, Assistant Professor of Law, and Joseph H. Goldstein Faculty Scholar, served as an executive committee member of the Sexual Orientation & Gender Identity Issues Section of the AALS in 2021. Dean Dodge also served on the Student Services Section of the AALS as vice-chair in 2021 and is chair-elect for 2022. Dodge also founded and served as editor in chief of a section publication to feature scholarship in the field. The first issue focuses on anti-racist initiatives around the country. Five Dickinson Law students served as editors of the publication under Dean Dodge's direction.
Amy C. Gaudion, Associate Dean for Academic Affairs, is currently serving as the secretary for the AALS Section on National Security Law.
Robin Fulton Langhans, Director of Alumni Relations, served on the planning committee for the 2022 Annual Meeting of the AALS Section on Institutional Advancement.
Alison F. Lintal, Director of Career Services and Externship Programs, organized this year's section social which took place virtually on January 5. Lintal is also serving as secretary of the AALS Section on Balance & Well-Being in Legal Education in the upcoming year.
Medha D. Makhlouf, Assistant Professor of Law; Founding Director, Medical-Legal Partnership Clinic; and Assistant Professor, Department of Public Health Sciences, Penn State College of Medicine, has been appointed as the secretary of the AALS Section on Law, Medicine and Health Care.
Kelly Rimmer, Director of Development and Alumni Affairs, participated as a facilitator for an Institutional Advancement breakout session on Boards and Alumni Volunteer Groups.
Bekah Saidman-Krauss, Associate Dean for Admissions and Financial Aid, served as a member of the executive committee and as chairperson of the standing nomination committee for the AALS Section on Pre-Law Education and Admission to Law School.