DICKINSON LAW HOSTS VIRTUAL JUNETEENTH CELEBRATION ON FREEDOM DAY
June 29, 2020 — More than 100 members of the Penn State Dickinson Law community came together on Zoom to mark the Juneteenth holiday on Friday, June 19, 2020. Juneteenth, also known as Freedom Day, commemorates June 19, 1865—a day that celebrates enslaved black people being freed.
Organized by Dickinson Law Dean and Donald J. Farage Professor of Law Danielle M. Conway, the Dean's Diversity and Inclusion Trusted Advisors, the Black Law Students Association, and the Dickinson Law Alumni Society, the virtual event celebrated community, culture, and conversation.
"We are witnessing seemingly never-ending acts of overt and covert racism nationwide," said Conway. "I am hopeful that this event will unite us in our diversity and provide an opportunity for meaningful reflection and dialogue about our collective role in eradicating injustice. Now is the time to act to dismantle institutional racism."
Dean Conway welcomed alumni, current law students, faculty, and staff, as well as members of the incoming class of 2023 and pre-law students participating in the Council on Legal Education Opportunity (CLEO) Pre-Law Summer Institute. 
Comeka Anderson Díaz '11 provided a historical overview of the Juneteenth holiday, and shared her personal experience celebrating as a native Texan. "I am an African-American woman who grew up in Galveston County, Texas—the site where the events leading up to Juneteenth transpired," said Diaz, a member of the planning committee and Dickinson Law Alumni Society Board of Directors; visiting lecturer in Criminology and Program Chair: Public Service Leadership, College of Human Sciences and Humanities at the University of Houston-Clear Lake, Houston, Texas; and owner/attorney, Anderson Díaz PLLC, Houston, Texas. "I have celebrated Juneteenth for as long as I can remember. I have excitedly watched what was once a regional holiday gain national recognition with celebrations taking place throughout the U.S. As a Dickinson Law alumna, I am truly pleased to see my Law School join the celebration."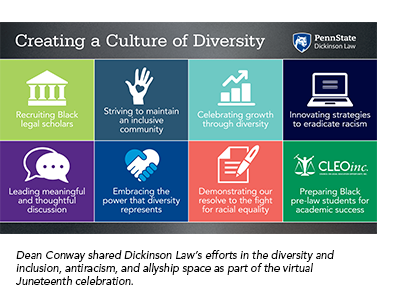 Dean Conway shared Dickinson Law's efforts in the diversity and inclusion, antiracism, and allyship space. Noting the Law School's increased diversity in admissions, as well as recent successes in recruiting more diverse applicants among faculty and staff hires, Dean Conway illustrated how Dickinson Law is making demonstrable strides toward achieving her second vision priority: to move substantially the needle on diversity. 
Participants were engaged in small group conversation during breakout sessions and explored ideas to drive Dickinson Law forward in navigating the issues facing the community. Each group offered suggestions on what a diverse and inclusive community should look like; how Dickinson Law can contribute to the national conversation on racism and social justice; what each member of the community can do to partner with Dean Conway in moving her vision priorities forward; and how to better communicate on diversity and inclusion in the classroom, workplace, and around the kitchen table. 
Small group discussions yielded key action items for the Dickinson Law community including ongoing opportunities for meaningful discussions around diversity and inclusion. Juneteenth participants were eager to see a blend of independent and collaborative learning opportunities for Dickinson Law community members. Seminars, continuing legal education offerings, and curricular enhancements were suggested, as well as engagement with other educational institutions and initiatives like the CLEO Pre-Law Summer Institute. Participants explored fostering a community that reflects society through diverse recruitment strategies, as well as nurturing formal and informal mentorship connections for students of color. Many participants shared that they hoped to continue listening to and learning from each other. 
In recent weeks, Dickinson Law's Black Law Students Association (BLSA) issued a statement and call to action, including a request to work with the Law School to facilitate a discussion about racial injustice and bias. In addition, the Dickinson Law faculty delivered a unanimous faculty resolution condemning brutality and inequity against Black people—both proud and touching moments for Conway. Dean Conway also shared a personal message with the Dickinson Law community, which was later shared with the Penn State community and beyond. Most recently, the H. Laddie Montague Jr. Law Library created Race and Diversity in America, a resource guide that informs and supports the learning necessary to banish injustice, inequality, racism, and sexism in America.
BLSA President and Student Bar Association Vice President Campbell Goin, a rising second-year law student and a member of the planning committee, said, "The rich history of Juneteenth is why I decided to become involved with this initiative. This event is important to reflect on this nation's history and commemorate the achievements of the Black community."
In addition to Conway, Diaz and Goin, the planning committee included:
Richard T. Bobbe III '99 
Partner, Greenblatt, Pierce, Funt and Flores, LLC (Philadelphia, PA) 
President, Dickinson Law Alumni Society Board of Directors
Crystal West Edwards '08 
Principal, Porzio, Bromberg & Newman, P.C. (Morristown, NJ) 
Member, Dickinson Law Alumni Society Board of Directors; Diversity and Inclusion Trusted Advisor
Ana Paulina Gomez '10 
Department Counsel, Pennsylvania Insurance Department, Office of Chief Counsel (Harrisburg, PA) 
Diversity and Inclusion Trusted Advisor
Cheryl Isaac 
Associate Director of Development, Office of Development and Alumni Affairs, Dickinson Law