BEKAH-SAIDMAN-KRAUSS DELIVERS TWO PRESENTATIONS IN NORWAY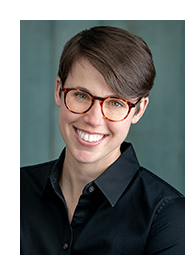 September 2023 — Bekah Saidman-Krauss, Associate Dean for Admissions and Financial Aid at Penn State Dickinson Law, presented at two Norwegian law schools this week on how, under the deanship of Danielle Conway, Dickinson Law has emerged as a leader in institutional antiracism within the U.S. legal academy. On Tuesday, September 26, 2023, Saidman-Krauss spoke to an audience of roughly a dozen colleagues from the faculty of law at University of Stavanger (UiS). On Thursday, September 28, 2023, she offered similar remarks to an audience comprised of faculty, students, and staff at University of Oslo (UiO).
For both audiences, Dean Saidman-Krauss began by introducing Dean Conway's definition of institutional antiracism and providing an abridged timeline of U.S. history from 1619 through the Reconstruction Amendments. She then segued into the history of exclusion within legal education in the U.S. and the ongoing legacy of that exclusion with respect to people of color. "This history is incredibly important to understand because it directly informs the origins of formal legal education in the U.S. as an exclusionary enterprise," Saidman-Krauss noted.
After laying the historical groundwork, Saidman-Krauss re-centered the discussion in the present and shared Dickinson Law's response to the 2020 murder of George Floyd: Dickinson Law was the first law school in the United States to unanimously pass a faculty resolution condemning racism and taking responsibility to teach and learn in accordance with antiracist principles. Saidman-Krauss spoke of the genesis and evolution of Dickinson Law's Race and Equal Protection of the Laws (REPL) course, a required first-year course that was borne out of another unanimous faculty resolution focused on race and Dickinson Law's educational mission. Feedback with respect to the substance and the form of REPL has generated slight modifications every time the course is offered, which is consistent with the iterative nature of systems design work that Dickinson Law has embraced.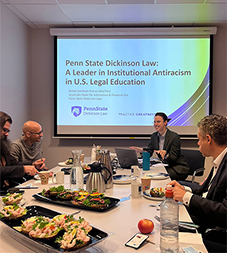 Saidman-Krauss then pivoted to the innovative work of the Antiracist Development Institute ("ADI"), which Dean Conway launched at Dickinson Law in 2022. The ADI aims to dismantle structures that scaffold systemic racial inequality by using a systems design approach focused on implementing antiracist practices, processes, and policies throughout organizations. Saidman-Krauss also spoke about the forthcoming 10-volume book series that serves as a platform for the ADI. She shared her approach to drafting the introduction for Volume 3 of the book series, which focuses on antiracism within law school admissions operations and financial aid administration. "Our contributors address the paradox—and necessity—of deconstructing systemic racism in law school admissions and financial aid practices while serving as gatekeepers of a profession that has helped to preserve the racial hierarchy upon which the United States was founded," Saidman-Krauss explained.
Lana Bubalo, Associate Professor and Head of the Department of Accounting and Law at University of Stavanger Business School, organized Saidman-Krauss's visit. Bubalo was thrilled that Saidman-Krauss's lecture sparked discussion and dialogue among her faculty colleagues. "Academic discussions are essential for raising awareness and promoting understanding of racial inequalities. It has been very interesting to hear about the systemic efforts undertaken by Penn State Dickinson Law in fighting institutional racism. Learning about how the faculty has come together supporting this initiative in different ways, is admirable. I had the privilege of spending five weeks in Carlisle and have personally witnessed the dedication of students and staff in achieving inclusion and equality," said Bubalo.
Following her presentation to the faculty of law in Stavanger, Saidman-Krauss spoke with UiS students about the prospect of studying abroad at Dickinson Law either as part of an exchange semester or a year-long LL.M program. She highlighted the unique benefits of studying at Dickinson Law including the Law School's history, size, location, alumni network, and campus culture. She also discussed the various elements of the application process and outlined the curricular requirements and electives available to both exchange and LL.M students. Dickinson Law and UiS maintain a reciprocal exchange agreement to encourage cross-cultural exchange through collaborative degree programs.
These presentations occurred during the final week of Saidman-Krauss's month-long visit to Norway, where she spent September as a visiting scholar at the University of Oslo. During her time at UiO, Saidman-Krauss cultivated connections with faculty and administrators to foster a closer relationship between Dickinson Law at UiO. She met with several key stakeholders at UiO to explore opportunities for collaboration including faculty and student exchanges, joint research projects, and other initiatives that will mutually benefit both institutions.