SHAAKIRRAH R. SANDERS NAMED DICKINSON LAW'S FIRST ASSOCIATE DEAN FOR ANTIRACISM AND CRITICAL PEDAGOGY
July 2023 — Dean and Donald J. Farage Professor of Law Danielle M. Conway wanted someone with several specific attributes for the newly created position of Associate Dean for Antiracism and Critical Pedagogy at Penn State Dickinson Law.
They had to embrace growth and learning new things. They had to be curious. And they had to show a deep commitment to teaching and learning.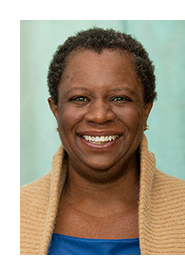 Dean Conway knew Shaakirrah R. Sanders, a visiting professor during the 2022-23 term, exhibited all those qualities and more.
"I want to see someone grow in the position and, while growing, bring everyone with her," said Dean Conway. "It is quite consistent with Frances Ellen Watkins Harper's well-known quote about 'lifting while we climb,' relating to Black women's political and social club movements in the 1880s and '90s. I see that virtue of 'lifting while we climb' in Professor Sanders, and that is what I expect from the position."
Sanders began the new position on July 1 and is not only the first person to serve in the new associate dean position at Dickinson Law but also the first in the country to assume an antiracism deanship. She will also serve as a Professor of Law and the Lewis H. Vovakis Distinguished Faculty Scholar.
"I was blown away, to say the least, that the dean had conceived of a new associate deanship and one with my particular skill set in mind," said Sanders. "It is a huge honor but also a huge responsibility. I am really humbled by the trust the faculty has put in me after visiting for a year."
After graduating from Loyola University New Orleans College of Law, Sanders practiced law for a decade before joining the legal academy. She became the first African American descendant of enslaved people to achieve the rank of full professor at the University of Idaho and its College of Law. Sanders has also visited Brooklyn Law School and Penn State Law in University Park. She teaches constitutional law, criminal procedure, and the First Amendment.
She said one part of her new job will be co-coordinate the "Race and Equal Protection of the Law" course, which all first-year students are required to take. "I will be doing everything from defining topics to finding speakers," said Sanders.
Another one of her new duties will be helping faculty teach from a perspective of antiracism. "I will collaborate with those who want to learn more and offer them resources, working with our externship coordinators and clinical faculty on being mindful of the way we do our work," said Sanders. "I am here learning right along with the faculty, and our learning will focus on the antiracist mission of Dickinson Law."
She also expects to give presentations on racism and antiracism to the Dickinson Law community and beyond. "Right now, with many of the decisions the Supreme Court has made, we need to have difficult conversations about racism and antiracism," said Sanders. "That the dean is willing to put that trust in me means a lot. And having students who are excited to hear about these subjects has made all the difference in the world."
Sanders recently bought a home in Carlisle where she hopes to host family holidays—after decades out West, she is thrilled to be close once again to her Midwest and East Coast family and friends. In her spare time, she enjoys oil painting and plans to begin swimming and cello lessons soon.