PROFESSORS MICHAEL A. BLASIE, SAMANTHA J. PRINCE AND ZACHARY STENDIG HOST PARDISS KEBRIAEI IN LEGAL ANALYSIS & WRITING II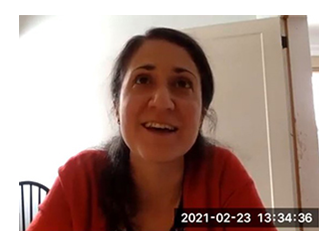 February 2021 — Professors Michael A. Blasie, Samantha J. Prince and Zachary Stendig recently hosted guest speaker Pardiss Kebriaei in their 1L Legal Analysis & Writing II course. Ms. Kebriaei is a Senior Staff Attorney at the Center for Constitutional Rights.
In a virtual presentation, Ms. Kebriaei spoke about her work representing Guantanamo detainees and her recently argued Pennsylvania Commonwealth Court case, Scott v PABPP. Scott v PABPP challenged death-by-incarceration (life without possibility of parole) sentences for felony murder cases where the convicted individual did not take, or intend to take, a life. Attorney Kebriaei talked to the 1L students about advocacy both in the courtroom and outside. She also talked about how to address statutory interpretation issues such as the definition of "wartime." Her visit left many students inspired to pursue jobs and/or pro bono work advocating for human rights and transformative justice.
---
Professor Michael Blasie brings his decade of litigation experience in trial and appellate courts to researching and teaching legal writing. His scholarship focuses on persuasive writing and the phrasing of legal standards. He has authored a seventeen-part legal writing series for practitioners, co-authored the treatise on Colorado Appellate Law and Practice, and published his scholarship published in the New York University Annual Survey of American Law and the DePaul Law Review
Professor Samantha Prince is an Associate Professor of Lawyering Skills and Entrepreneurship at Penn State Dickinson Law. She has a Master of Laws in Taxation from Georgetown University Law Center, and was a partner in a regional law firm where she handled transactional matters that ranged from an initial public offering to regular representation of a publicly-traded company. Most of her clients were small to medium sized businesses and entrepreneurs, including start-ups. An expert in entrepreneurship law, she established the Penn State Dickinson Law entrepreneurship program, is an advisor for the Entrepreneurship Law Certificate that is available to students, and is the founder and moderator of the Inside Entrepreneurship Law blog.