PROFESSOR TERRY PUBLISHES NEW ARTICLE ON GLOBAL NETWORKS AMONG LAWYER REGULATION STAKEHOLDERS
November 2020 — Professor Laurel Terry recently published in the Georgetown Journal of Legal Ethics an article on the global networks among lawyer regulation stakeholders. Her article, which is entitled Lawyer Regulation Stakeholder Networks and the Global Diffusion of Ideas is available at this link.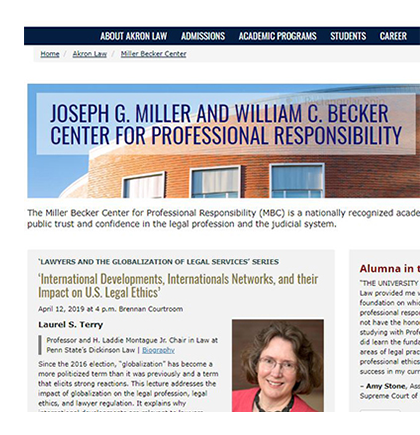 This article is a companion piece to an article Professor Terry published earlier this year in which she examined global legal profession networks. Professor Terry's Georgetown article focuses on a subset of global legal profession networks, which are the global networks of lawyer regulation stakeholders. Her article examines the growth in global lawyer regulation stakeholder networks and the methods that stakeholders use to connect with one another. It illustrates how U.S. lawyer regulation stakeholders are connected to global networks, such as the International Conference of Legal Regulators, whose October 2020 virtual meeting was sponsored by the Illinois Attorney Registration & Disciplinary Commission, as well as global connections within lawyer regulation stakeholder groups such as the NCBE, CCJ, NOBC, ABA, AALS, APRL, ICLR, IBA, and IAOLE.
Professor Terry, who holds the H. Laddie Montague, Jr. Chair in Law, is a three-time Fulbright recipient who writes and teaches about the impact of globalization on the legal profession, especially with respect to regulatory issues. Her scholarship has identified emerging issues for the legal profession and urged stakeholder engagement, new initiatives, and regulatory reform. In addition to speaking at academic and professional conferences, she has been invited to speak about her scholarship to organizations that include the Conference of Chief Justices, the National Conference of Bar Examiners, the National Organization of Bar Counsel, the National Conference of Bar Presidents, the CCBE, which represents EU's legal profession and legal regulators, the Federation of Law Societies of Canada, the International Institute of Law Association Chief Executives, the International Bar Association, and the International Conference of Legal Regulators.