PROFESSOR PRINCE'S ARTICLE ON GIG WORKERS ACCEPTED FOR PUBLICATION
March 2021 — Professor Samantha Prince's article entitled "The AB5 Experiment – Should States Adopt California's Worker Classification Law?" recently was accepted for publication. It will be published in the American University Business Law Review in its Spring 2022 issue.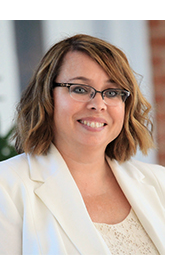 Professor Prince's article provides a detailed look at a recent California law known as AB5. The goals of AB5 were to correct misclassification issues for app-based drivers and other workers. AB5 received, and continues to receive, nationwide attention because it reclassified app-based drivers (such as Uber, Lyft, DoorDash, etc.) as employees, rather than independent contractors.
As Professor Prince's article explains, as a result of Proposition 22, which was placed on the ballot by Uber and passed in November 2020, app-based drivers are exempt from AB5 and California's worker classification laws. Nevertheless, because California is considered a first-mover in so many areas, and since AB5 and Prop 22 continue to receive national attention, determining whether California's worker classification law should be adopted in other states is important.
Professor Prince's article takes advantage of her expertise about worker classification, which she originally developed in practice and then further when teaching her business and Entrepreneurship Law courses. A worker's classification as either independent contractor or employee is a central inquiry and determines whether workers are entitled to minimum wage, overtime, worker's compensation, unemployment compensation, anti-discrimination protection, NLRA protections, and many other safety-net protections. During COVID-19, unemployment protections were extended to independent contractors, but this is not the norm and likely will not continue post-pandemic. Classifying certain workers, particularly those who work in the gig economy, is challenging, so states are looking for an answer – either through their own innovation or through that of other states. Professor Prince's article offers an important contribution to the literature by explaining why California's worker classification law should not be used as a model for other states. Professor Prince envisions her AB5 Experiment article as one in a three-part series on gig worker classification.
---
Professor Samantha Prince is an Associate Professor of Lawyering Skills and Entrepreneurship at Penn State Dickinson Law. She has a Master of Laws in Taxation from Georgetown University Law Center, and was a partner in a regional law firm where she handled transactional matters that ranged from an initial public offering to regular representation of a publicly-traded company. Most of her clients were small to medium sized businesses and entrepreneurs, including start-ups. An expert in entrepreneurship law, she established the Penn State Dickinson Law entrepreneurship program, is an advisor for the Entrepreneurship Law Certificate that is available to students, and is the founder and moderator of the Inside Entrepreneurship Law blog.