PROFESSOR ANDREA MARTIN SPEAKS AT THE FIRST YOUNG LAWYERS EXCEEDING THE BAR CLE SESSION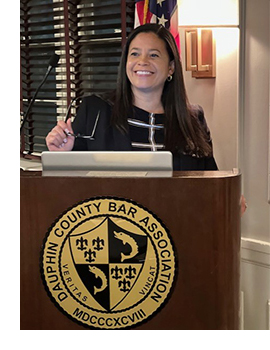 February 2023 — Professor Andrea J. Martin was invited to give a Legal Writing for New Lawyers presentation at the Dauphin County Bar Association's first Young Lawyers Exceeding the Bar CLE session. These sessions provide newer members of the bar with the tools to navigate the early years of their legal careers, opportunities to build a network of peers and mentors, and vital resources to help them grow personally and professionally. In the spirit of teaching and learning, Professor Martin first facilitated a discussion with new lawyers about whether legal writing courses in law school prepared them well for practice. She then provided legal writing pointers and pitfalls to help young lawyers improve their effectiveness as they work to enhance their professional reputations and advance their careers.
Through Professor Martin's partnership with the Dauphin County Bar Association's Young Lawyers Section, she provides professional guidance and shares practical knowledge during the critical transition from law student to legal practitioner. Her goals are to support new attorneys, strengthen our community, and elevate standards of competence, ethics and professionalism.
---
Professor Andrea J. Martin is a visiting assistant professor of law at Penn State Dickinson Law and recipient of the Penn State Dickinson Law Phillip M. Scott Teaching Excellence Award. Her research draws on constitutional and legal history to explore and analyze current social justice issues including American Indian sovereignty rights, antiracism in education, and voter suppression. Prior to joining Dickinson Law, Martin spent twelve years as a strategic legal advisor, managing business and regulatory legal affairs at a multi-billion-dollar company. Professor Martin also served as a Special Assistant Attorney General in the Appellate Division of the Rhode Island Department of Attorney of General. Martin is involved in diversity and inclusion efforts and served on the Governor's Task Force on Diversity, the Governor's Commission on Prejudice and Bias and the Thurgood Marshall Lawyer's Society. She has also taught legal writing in the CLEO (Council on Legal Education Opportunity) program, recently hosted by Penn State Dickinson Law, to increase the number of lawyers from diverse backgrounds.