PROF. TERRY INVITED TO SPEAK AT THE ANNUAL NCBE BAR ADMISSIONS CONFERENCE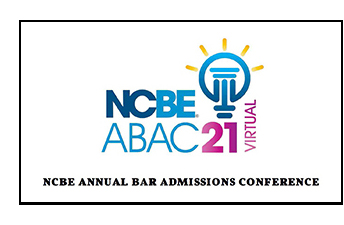 March 2021 — Professor Laurel S. Terry has been invited to speak at the National Conference of Bar Examiners' annual Bar Admissions Conference. She will participate in a panel entitled Measuring Competence: Global Developments and Comparisons.
The NCBE's Measuring Competence panel will take place against the backdrop of the NCBE Board of Trustees' recent decision to approve task force recommendations  for the next generation of the bar exam. The Measuring Competence panel includes Professor Terry, Paul Philip, and Jordan Furlong. Paul Philip is the Chief Executive of the Solicitors Regulation Authority, which is the regulatory body for solicitors in England and Wales. The SRA will begin using in September 2021 its new Solicitors Qualifying Examination (SQE) – the so-called "Super Exam." Jordan Furlong, who is a Canadian legal sector analyst and the author of the Law21 blog, recently wrote an influential report about lawyer competency for the regulatory body in Alberta, Canada. Professor Terry brings to the panel her knowledge of global lawyer regulatory developments, including issues related to entry into the profession; her knowledge of lawyer competency lists developed by private sector, public sector, and nongovernmental organizations such as IAALS; and her experience in developing Penn State Dickinson Law's required first year course which is currently titled Law Practice II: Contexts and Competencies.
The NCBE's annual bar admissions conference is an educational event designed for members of the bar examining and admissions community. Attendees include state Supreme Court justices, bar admission administrators, and members of boards of bar examiners, all of whom direct the bar admissions process in their jurisdictions. The Conference focuses on the issues that influence the licensing of lawyers both today and in the future.
---
Professor Laurel Terry, who holds the H. Laddie Montague, Jr. Chair in Law, is a three-time Fulbright recipient who writes and teaches about the impact of globalization on the legal profession, especially with respect to regulatory issues. Her scholarship has identified emerging issues for the legal profession and urged stakeholder engagement, new initiatives, and regulatory reform. In addition to speaking at academic and professional conferences, she has been invited to speak about her scholarship to has been invited to speak about her scholarship to organizations that include the Conference of Chief Justices, the National Conference of Bar Examiners, the National Organization of Bar Counsel, the National Conference of Bar Presidents, the CCBE, which represents EU's legal profession and legal regulators, the Federation of Law Societies of Canada, the International Institute of Law Association Chief Executives, the International Bar Association, and the International Conference of Legal Regulators.