DANIELLE M. CONWAY RECEIVES GEORGE WASHINGTON UNIVERSITY LAW SCHOOL BELVA ANN LOCKWOOD AWARD
March 30, 2020 — Danielle M. Conway, dean and Donald J. Farage professor of law, Penn State Dickinson Law, was named the 2020 recipient of the George Washington University Law School (GW Law) Belva Ann Lockwood Award from the GW Law Association for Women and the GW Law Alumni Association. The alumna award recognizes the accomplishments and pioneering spirit of women leaders in the legal profession. Conway earned her dual master of laws degree (Environmental Law and Government Procurement Law) from GW Law in 1996.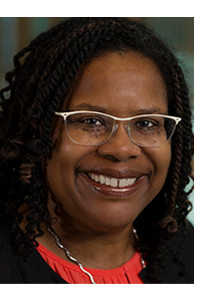 "I am both honored and humbled to have received this recognition from my alma mater and to join the great company of sister alumna award recipients," said Conway, who transitioned from faculty to administration with a plan to bring more women, people of color, and individuals from under-represented groups into the legal profession.
As the first person of color and first woman to serve as dean of Dickinson Law, Conway focuses on the law's fundamental purpose to foster an organized, civilized society, and create collective community engagement and progress. She inspires students to see in the law the power to protect individuals and their communities by drawing on core values such as liberty, equality, equity, inclusiveness and fairness.
Before assuming the deanship at Dickinson Law, Conway served for four years as dean of the University of Maine School of Law and 14 years on the faculty of the University of Hawai'i at Mānoa, William S. Richardson School of Law, where she was the inaugural Michael J. Marks Distinguished Professor of Business Law. Before joining Maine Law, she was a member of the faculties at the Georgetown University Law Center and the University of Memphis Cecil C. Humphreys School of Law. She also served as a Fulbright Senior Scholar in Australia and later as Chair in Law at La Trobe University, Faculty of Law and Management.
In 2016, Conway retired from the U.S. Army in the rank of lieutenant colonel after 27 years of combined active, reserve, and national guard service.
Most recently, Conway was selected to the Lawyers of Color's Power List by the Lawyers of Color Foundation, which recognizes the most influential minority attorneys and allies in the nation. She also received the John Mercer Langston Legal Education Leadership Award during the 15th Annual National Black Pre-Law Conference and Law Fair in Washington, D.C.