LEGAL EDUCATION IN A POST-COVID WORLD
January 2021 — On Friday, January 21, Penn State Dickinson Law and Willamette University College of Law will be co-hosting a virtual presentation titled "Legal Education in a Post-COVID World." The event will run from 6:00 to 7:30 p.m. ET and is free to all students, staff, and faculty.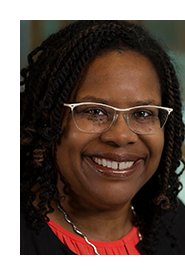 The evening will begin with an introduction by Danielle M. Conway, Dean and Donald J. Farage Professor of Law at Penn State Dickinson Law, and Brian Gallini, Dean and Professor of Law at Willamette University College of Law.
Five panelist presentations will dive into the impact of COVID on legal education, quantitative and qualitative findings on how the pandemic has affected retention and mental health of law faculty, the experience of a Dean navigating the challenges of COVID, building an antiracist law school during the COVID pandemic, and more. Panelists include Penn State Dickinson Law Dean Danielle M. Conway, Law School Survey of Student Engagement (LSSSE) Project Manager Dr. Chad Christensen, Professor Meera E. Deo, Professor Jessica M. Erickson, and moderator Professor Rachel F. Moran.
Immediately following the presentations, a series of breakout sessions will offer participants the opportunity to discuss questions from the panelist presentations:
Dean Danielle M. Conway and Dean Brian Gallini will moderate groups 1 and 2: "How do we communicate our equity work when equity sometimes requires different responses to different challenges?"
Dr. Christensen and Professor Moran will moderate groups 3 and 4: "Students lost a tangible connection with one another last academic year and therefore lost opportunities for peer-to-peer learning. Moving forward, how do we make sure to address the impact that had on student learning?"
Professor Meera E. Deo and Professor Jessica M. Erickson will moderate groups 5 and 6: "What innovations that arose during the pandemic should we continue? Could any of those innovations enhance future opportunities for inclusivity? Are there forced pandemic innovations that we should let go of? What is the process by which we weigh what to keep and what to eliminate?"
For a complete schedule of events, speaker and moderator biographies, or to register for this virtual event, visit: https://willamette.edu/law/events/legal-education-symposium/index.html.