The Hon. Sylvia H. Rambo Award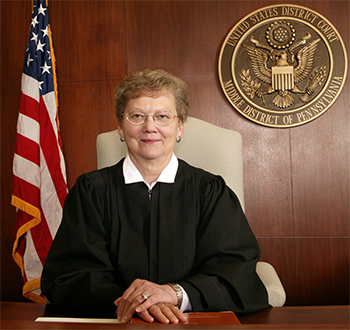 Each year, the Women's Law Caucus (WLC) honors a female in the legal profession who has had a distinguished career and who, by example, has made the professional success of other women more likely. A list of past recipients is available below.
The WLC established this award in 1993 when it honored Judge Sylvia H. Rambo as the first recipient, paying tribute to her contributions as a lawyer and jurist and to her interest in promoting the role of women in the law. Judge Rambo graduated cum laude from Dickinson College in 1958 and earned her juris doctor from The Dickinson School of Law in 1962. She served as the Chief Public Defender for Cumberland County, PA, and as an adjunct professor of law. Judge Rambo currently serves as a Senior Judge for the U.S. District Court for the Middle District of Pennsylvania. She was appointed to the Federal Bench by President Jimmy Carter in 1979 and became the first woman to serve as Chief Judge of the Middle District from 1992 to 1999. In May 2022 President Joe Biden signed a bill designating the United States courthouse on North 6th Street in Harrisburg, Pennsylvania, as the "Sylvia H. Rambo United States Courthouse." The legislation was introduced by Pennsylvania Senators Bob Casey and Pat Toomey and passed the U.S. House in March 2022.
In conjunction with the award, the Law School will host the annual Hon. Sylvia H. Rambo Award Ceremony and Reception on Wednesday, March 22, 2023.
---
The Recent Alumna Award
In 2020 the Women's Law Caucus created the Recent Alumna Award to recognize a graduate of Dickinson Law within the last ten years who represents exceptional dedication to the school while a law student or exceptional dedication to her current job, a pioneer in her respective field, or someone who has done an extraordinary study, event, or program while a law student, and who promotes the encouragement of women in the legal field. Alexia Tomlinson '18 and Erin Varley '18 were selected as the inaugural co-recipients of the award. The Recent Alumna Award is given in conjunction with the annual Hon. Sylvia H. Rambo Award Ceremony & Reception each spring.