GREG BAYLES JOINS DICKINSON LAW AS ASSISTANT DIRECTOR OF DEVELOPMENT: "I'VE ALWAYS WANTED TO DO SOMETHING TO HELP PEOPLE"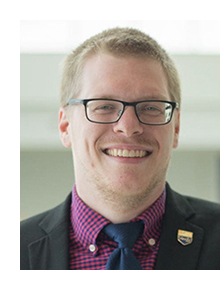 July 27, 2021 — Greg Bayles sees his role in simple terms. Penn State Dickinson Law's new assistant director of development helps people determine where and how they want to make an impact. He loves speaking with alumni about ways to contribute to the sustained success of Dickinson Law.
"My role is to help supporters of the Law School make the difference they want to make," said Bayles. "I have always wanted to do something to help people and to be a part of something bigger than myself. I love finding out more of someone's story, learning what they want to do, asking questions, and helping them realize it."
Bayles joined Dickinson Law in July, after working as a liaison to Kelly Rimmer, director of development and alumni affairs at Dickinson Law, in his position as an annual leadership gift officer at Penn State. Bayles took that role following a summer internship with the University's Division of Development and Alumni Relations.
Bayles has seen firsthand the many exciting opportunities afforded to University students through alumni outreach and support. In 2019, he received his bachelor's degree in professional communications with a minor in entrepreneurship from Penn State Altoona, where he participated in the honors program and networking events featuring alumni across the country.
As a Sheetz Fellow, Bayles studied abroad in Germany and the Netherlands, and also attended the Collegiate Entrepreneurs Organization (CEO) conference in Tampa Bay, FL. All the while, he balanced his studies with a position as a customer care supervisor leading teams who dealt with customer service and technical support calls, which reinforced to him the importance of effective communication.
"I am good at talking to people, and I have realized that one conversation really can make a difference in what I do," said Bayles. "Not everyone is comfortable with this type of work, but I love the energy that comes from making connections."
Bayles particularly enjoys hearing the stories shared by alumni. He likes hearing where they came from and why they do what they do. He asks a lot of questions, and he listens closely to the answers.
"I think the tool I utilize the most often is my curiosity. My role is to be curious about the other person's success, which allows them to appreciate what they have accomplished in their lives," said Bayles. "Oftentimes when I speak to Dickinson Law alumni, I am thinking, 'I cannot sum up in words how impressed I am with your life.'"
He has also been impressed with the legacy and future of Dickinson Law. "It is an honor to join the oldest law school in the state and the fifth-oldest law school in the country," said Bayles. "Dickinson Law has such an amazing history. I see Dickinson Law spearheading this Antiracist movement that allows individuals like me to feel empowered to do good for generations to come. It is going to take generations to fulfill the work that Dean and Donald J. Farage Professor of Law Danielle Conway has put forward, and I am excited to be a part of that."
Outside of work, Bayles enjoys running with his dog and spending time with his growing family. He has two children, and his wife is expecting another this fall.