G. GRIFFITH LINDSAY III (CLASS OF 1979) AND EMILY LINDSAY SUPPORT DICKINSON LAW WITH GRIFF AND EMILY LINDSAY ANTIRACISM AND SYSTEMIC EQUITY PROGRAM SUPPORT FUND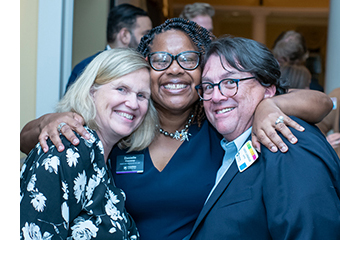 February 2023 — G. Griffith "Griff" Lindsay III (Class of 1979) comes from a long line of Penn State Dickinson Law graduates. His father and his father's father both attended the school.
Lindsay followed the family calling when he decided to become an attorney, yet he adopted more than just their profession. He also embraced the passion he terms "crusading for justice" that was held by his father and grandfather. For Lindsay, that has meant volunteering his legal expertise to support voter protection efforts, among other things.
He said he will always remember election day in 2008. He overslept that morning and had to hustle to make it to the polls before they opened so that he could share his legal expertise as a volunteer.
When Lindsay arrived at 5:30 a.m., it was pouring rain. He was amazed to see a long line of people already standing in line waiting to vote. "I counted over 200 people in line, all people of color, waiting for a chance to vote on a ballot that included Barack Obama, the first Black candidate to win the presidency," said Lindsay. "After I saw that, I felt pretty darn good about all the work I had already done for voter protection and emboldened to continue."
When Lindsay and his wife, Emily, learned about the Antiracist Development Institute (ADI) at Dickinson Law, which launched in late 2021, they saw another avenue to fight injustice. Their recent $250,000 gift created the Griff and Emily Lindsay Antiracism and Systemic Equity Program Support Fund to support the efforts of the ADI and Dickinson Law.
"When we learned about the ADI and gifts to support it, we became very, very enthused," said Lindsay. "We wanted to do something for it immediately." He called Director of Development and Alumni Affairs Kelly R. Rimmer, who set up a conference call with Dickinson Law Dean and Donald J. Farage Professor of Law Danielle M. Conway to discuss the ADI. "We were so happy to hear her plans, and we were so enthralled with her vision," said Lindsay. "We wanted to make a significant gift."
Their fund is earmarked to support the institute and related initiatives and programming. While Griff and Emily, who taught for years at American University, both see great value in scholarships, they wanted this gift to be different. "We trust them to use it where they see it is needed and achieve great results. And we are very confident the Dickinson Law leadership will do that," said Lindsay. "We are already seeing great things from the ADI."
"I thought it was very telling that the faculty has embraced the antiracist curriculum 100 percent," said Emily. "To get faculty 100 percent on board for anything, even lunch, is almost impossible. The fact that they recognized the need for this is wonderful."
A family affair
Griff and Emily were not the only members of the family excited by the prospect of the gift. They emailed their three children outlining their reasons for and size of their gift. "All of them responded that they were so proud that we would do this," said Emily. Two of their children work in education, and all three instantly grasped the importance of the gift beyond education. "They see that there is no reason we should not apply antiracist and anti-misogyny concepts in the workplace, in community organizations, in Little League baseball, or even a garden club," said Lindsay. "Our children were 100 percent supportive of our decision."
The Lindsays agree with their two daughters and son that "nothing is more critical" than working toward systemic equity. They say they are all inspired by Dickinson Law's efforts.
"I never understood how those people who go to big sports schools get so excited about winning a national championship, but I do now. This set my heart pounding," said Lindsay. "I am just incredibly proud that Dickinson Law is leading this antiracist movement, and we want to do all we can to be part of it."
He and Emily plan to do that as part of their retirement. Both served distinguished careers at Marriott International. Lindsay spent nearly three decades with the company, retiring in 2008 as vice president and managing tax director. Emily retired that same year following 23 years with Marriott, where she led corporate accounting services. The Lindsays recently relocated to Florida from their longtime home in Maryland, where they raised their family.