FACULTY AND STAFF RECOGNIZED FOR YEARS OF SERVICE, DEDICATION TO DICKINSON LAW
May 21, 2021 — During Penn State Dickinson Law's annual employee appreciation luncheon on Tuesday, May 18, faculty and staff received awards and recognition for years of service milestones and dedication to the law school.
Professor of Law Dermot Groome was honored with the Dickinson Law Faculty Excellence Award, for which nominations were solicited from faculty, staff, students and alumni. The award recognizes demonstrated excellence in teaching, counseling and/or academic advising; scholarly accomplishments; and service to the institution, the profession and the community.
Many of the nominations highlighted Groome's work in organizing the Race and the Equal Protection of the Laws program for first-year law students. He authored the faculty resolution "Race and Our Educational Mission," which was unanimously adopted by the faculty without amendment on June 18, 2020. Nominators also described Groome's consistent use of current events in his teaching, scholarship in various fields of legal study, and communities in and outside of Pennsylvania that have benefited from his efforts.
"Students shared personal stories demonstrating Professor Groome's compassion, support and commitment to Dickinson Law's 'Practice Greatness' motto," said Sarah Williams, chair of the faculty development committee and assistant professor of law. "Students expressed deep appreciation for Professor Groome's open-door policy, willingness to help students, and his emphasis on preparing them for practice after law school."
One colleague wrote, "Professor Groome truly embodies all the characteristics of the award from his teaching, to his scholarship, as well as his service to the institution, profession and community."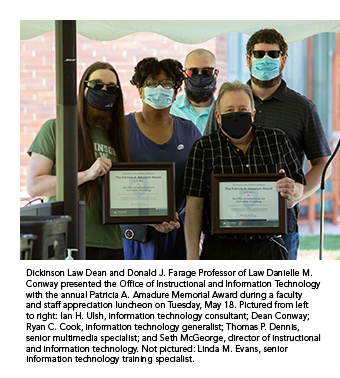 The 2020-21 Patricia A. Amadure Memorial Award was presented to the Office of Instructional and Information Technology (IIT) in recognition of industriousness, good humor, dedication and loyalty to Dickinson Law, its students and alumni. The IIT team, including Seth McGeorge, director of instructional and information technology; Ryan C. Cook, information technology generalist; Thomas P. Dennis, senior multimedia specialist; Linda M. Evans, senior information technology training specialist; and Ian H. Ulsh, information technology consultant, was instrumental in helping the Dickinson Law community pivot to remote work in March 2020.
"We were surprised to be honored as a team for this award and are truly grateful to our Dickinson Law colleagues, many of whom are certainly qualified to have earned it this year as well," said McGeorge. "We are fortunate to have our colleagues as partners in success throughout the pandemic. As director of this team, I couldn't be prouder of what we have accomplished together. Thank you to all of those who nominated us for this recognition and to the committee for selecting us. Thank you most of all to Ryan, Tom, Linda and Ian for everything they do on a daily basis."
One colleague who nominated the IIT team for this award shared, "They have worked with diligence and good humor, keeping us updated on the latest technology. They have added technology to help each of us work in our remote environments and have worked with us to become comfortable with the technology. They have helped us mitigate threats to classes and events."
"In short, they have worked individually with every member of the law school community to make sure that each person had the tools needed to perform their work successfully," another nominator shared. "We are so fortunate to have this dedicated group of colleagues."
Because Dickinson Law's annual employee appreciation luncheon was not held in 2020, faculty and staff who recorded years of service milestones in both 2019 and 2020 were also recognized.
Employees recognized for years of service milestones recorded in 2019 include:
40 years: Gary S. Gildin, emeritus dean, professor of law, Hon. G. Thomas and Anne G. Miller Chair in Advocacy, and director, Center for Public Interest Law and Advocacy
35 years: Thomas P. Dennis, multimedia specialist
10 years: Stanley M. Brand, distinguished fellow in law and government and on-site director, Semester-in-Washington, D.C. Program
Five years: Dermot M. Groome, professor of law and Harvey A. Feldman Distinguished Faculty Scholar; Martin Skladany, professor of law
Employees recognized for years of service milestones recorded in 2020 include:
35 years: Laurel S. Terry, professor of law and H. Laddie Montague Jr. Chair in Law
25 years: Katherine C. Pearson, professor of law and Arthur L. and Sandra S. Piccone Faculty Scholar
20 years: Kelly R. Rimmer, director of development and alumni affairs
15 years: William E. Butler, John Edward Fowler Distinguished Professor of Law; Anne C. Porter, faculty administrative support assistant
10 years: Robin Fulton Langhans, director of alumni relations, CLE and special events
Five years: Medha D. Makhlouf, assistant professor of law and director, Medical-Legal Partnership Clinic; Alison Flowers Lintal, director of career services and internship programs; Courtney D. Verdelli, director of marketing and communications; Laura H. Williams, assistant dean
Employees recognized for years of service milestones recorded in 2021 include: 
30 years: Dawn E. Stephens, housekeeping
20 years: James A. Stum, preventative maintenance
15 years: Seth M. McGeorge, director of instructional and information technology
Five years: Samantha J. Prince, associate professor of lawyering skills and entrepreneurship; Justin M. Kulp, senior creative specialist