DICKINSON LAW WELCOMES LEGAL SCHOLAR TO FACULTY
May 2020 — Raff Donelson has been named assistant professor of law, Penn State Dickinson Law, effective June 1, 2020. Currently assistant professor of law and philosophy at Louisiana State University, Donelson will teach constitutional law, criminal procedure, and jurisprudence at Dickinson Law.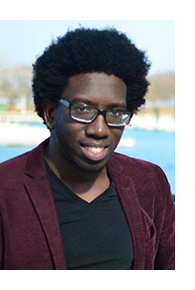 "The addition of Dr. Donelson to our resident faculty increases the depth and diversity of our curricular offerings," said Dickinson Law Dean and Donald J. Farage Professor of Law Danielle M. Conway. "Our students will benefit from his contributions as both a researcher and scholar. We are fortunate to welcome him to our community."
Donelson earned his J.D. from Northwestern Pritzker School of Law, Chicago, IL. During his time in law school, he was a student attorney with the Children and Family Justice Clinic, where he represented adults coping with the consequences of a criminal conviction. He also worked with the Constitutional Rights Foundation Chicago to teach primary school students about legal reasoning and their constitutional rights.
Donelson's more theoretical research interests include metaethics and general jurisprudence, while his doctrinal work focuses on constitutional protections for criminals and the accused. His scholarship has been featured in Metaphilosophy, Contemporary Pragmatism, the Canadian Journal of Law and Jurisprudence, the Ohio State Journal of Criminal Law, Oxford Studies in Experimental Philosophy, and other venues. In 2017, Donelson was interviewed for Legal-Phi, an online venue featuring work on rising stars in the field of legal philosophy.
"I'm looking forward to joining a community of active scholars, to mentoring the next generation of advocates, and to returning to my home state of Pennsylvania," said Donelson.
Donelson has authored numerous peer-reviewed articles, book chapters, and book reviews, and has given dozens of guest lectures at law schools and philosophy departments throughout the country and around the world.
Donelson earned a doctorate in philosophy from Northwestern University, Evanston, IL; a master of arts in philosophy from the University of Chicago, Chicago, IL; and a bachelor of arts in philosophy (with honors) and political science from Williams College, Williamstown, MA.