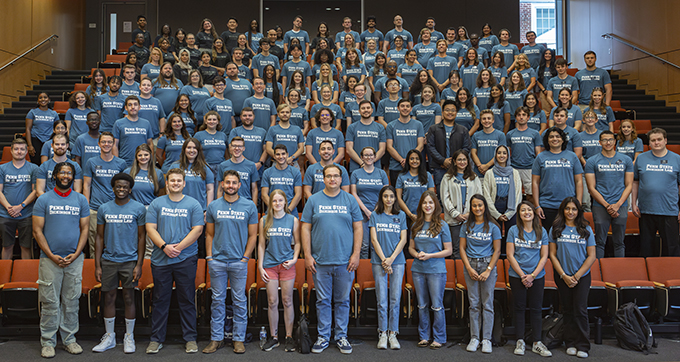 DICKINSON LAW WELCOMES INCOMING STUDENTS
August 2023 — Penn State Dickinson Law welcomed 108 members of the Juris Doctor Class of 2026 to campus for the first full day of orientation on Thursday, August 17, 2023. In addition, three transfer students, 11 Master of Laws (LL.M.) students, and two Doctor of Juridical Science (S.J.D.) students were also welcomed to campus. The day started with a Convocation ceremony that ushered the scholars into the Dickinson Law community, followed by sessions on Practicing Greatness in Law School, Society, and the Legal Profession; Practicing Greatness in Society: Being Inclusive and Professional about Differing Viewpoints; Practicing Greatness in Your Professional Identity: Introduction to Career Services and Professional Development; and Practicing Greatness as Future Alumni.
Bekah Saidman-Krauss, associate dean for admissions and financial aid, noted that "this is one of the most diverse and highly credentialed classes in the history of the Law School."
They are service oriented. They have volunteered as a peer tutor, as a firefighter, and as part of the AmeriCorps VISTA program. They have helped to protect endangered sea turtles and established an organization that assists refugees.
They are distinguished. They have earned recognition as Eagle Scout, United States Navy Achievement Medal recipient, and Fulbright Scholar. We are thrilled to welcome four new Fulbright students this year as part of our LL.M. cohort.
They are curious. They have studied abroad in Vienna, interned in London, conducted field research in Belfast, and some of them have chosen to attend law school abroad — in the United States.
They are talented. They have played as a member of the symphony orchestra, served as the managing editor of their undergraduate newspaper, launched an oral history project, and worked as a black belt karate instructor.
They are resilient. They have survived hurricanes, supported loved ones through illness, and have become certified in Youth Mental Health First Aid.
They are a diverse group. With respect to our J.D. Class of 2026 in particular, two-thirds of them are the first in their family to attend graduate school and nearly one-third of them were the first in their family to attend college. Almost half identify as students of color and roughly 20 percent identify as part of the LGBTQ community.
Dr. Anthony C. Ogden, the director of international programs and graduate education, enthusiastically remarked, "We are truly delighted to extend a warm welcome to some of the most exceptional legal minds and scholars from various corners of the globe." Notably, Dickinson Law experienced a remarkable 42 percent surge in LL.M. applications compared to the previous year, resulting in the enrollment of eleven accomplished students this academic term. This diverse group of LL.M. candidates represents Cambodia, Guinea, Guyana, India, Iraq, Mongolia, Nepal, Nigeria, Saudi Arabia, and Swaziland. Admission to the LL.M. program requires candidates to possess an initial law degree and be qualified to practice law within their home countries.
Among the incoming LL.M. cohort, a distinguished contingent of four Fulbright scholars stands out. This esteemed cultural exchange initiative bestows scholarships and grants upon students, scholars, educators, professionals, and artists to engage in overseas studies and research. Additionally, one student is sponsored by the Saudi Arabian Cultural Mission, a specialized governmental agency dedicated to fulfilling the educational and cultural requirements of Saudi nationals pursuing education in the United States.
Dr. Ogden highlighted the rigorous selection process of Dickinson Law's S.J.D. program, emphasizing that from the multitude of applications received annually, merely one or two students secure admission. He enthusiastically expressed, "We are delighted to announce the enrollment of two new distinguished S.J.D. scholars this academic year, hailing from Bulgaria and China. The current cohort of doctoral candidates, including the newly enrolled scholars, remains dedicated to pushing the frontiers of legal scholarship."