DICKINSON LAW STUDENTS OFFER AID TO AFGHAN EVACUEES RESETTLING IN PENNSYLVANIA
November 2, 2021 — It is an excellent illustration of the old axiom "great minds think alike."
When third-year Penn State Dickinson Law student Parham Golestanian (class of 2022) saw the deteriorating situation in Afghanistan, he realized evacuees coming to Pennsylvania would require assistance. He reached out to International Service Center (ISC), a Harrisburg-based nonprofit providing social services.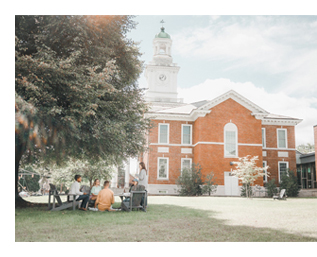 "I saw what was going on in Afghanistan, and it was reminiscent of the things that I have always been very passionate about related to immigration and the Middle East. I wanted to help out in some way," said Golestanian.
It turned out that Dickinson Law Associate Dean for Academic and Student Services Jeffrey A. Dodge felt a similar calling around the same time in early September. Unbeknownst to Golestanian, Dodge, too, approached ISC to see if Dickinson Law students could aid Afghan evacuees settling in central Pennsylvania. Dodge envisioned a service project coinciding with 9/11.
Eventually, ISC, Golestanian, and Dodge connected, bringing everyone onto the same page. What began as a drive for new toiletries to share with evacuees has now evolved into a chance for Dickinson Law students to help individuals and families forced to leave Afghanistan with filling out immigration forms.
Students gain valuable experience working directly with people in the same way they will when they represent clients. More than that, however, the ISC work affords students an avenue to offer sorely needed service.
"We want to train lawyers who are focused on service, equity, and human rights—on people," said Dodge. "This is the kind of opportunity that a student can take advantage of during school to see how pro bono work exists and how it can complement your academic experience right now and, in the future, complement your legal practice."
Initially, Dodge led a toiletry drive. Dickinson Law students collected hundreds of toothbrushes, tubes of toothpaste, razors, and other items ISC distributed to people who left their homes in Afghanistan with almost nothing. Dodge said two dozen individuals benefitted from those contributions.
Golestanian envisioned using his legal knowledge to help evacuees, and so he and Dodge spoke to the center about having students help evacuees fill out legal documents needed to come to and stay in the United States.
"There are special forms required when one comes to this country without status and wanting to officially declare that they are an asylum seeker in the United States. A legal standard will be reviewed to determine whether or not they meet the requirements," said Dodge.
Golestanian said that so far, Dickinson Law students have connected with three Afghan nationals who have petitioners assisting them who are already in the United States. The students have held Zoom meetings where they ask the petitioners questions through a translator facilitated by ISC to get answers to the questions on the legal forms.
The paperwork can be tedious, which underscores why receiving outside assistance is so critical. "This paperwork is dense, and it is hard, especially with the language difference and cultural transition. Plus, these folks have been through a significantly traumatic event. We are just supplying them the support they need to get through to these next steps and establish themselves in the United States," said Dodge.
So far, 19 Dickinson Law students have expressed interest in assisting evacuees. Golestanian said six are actively involved right now, but he expected that number could rise after midterms.
Reading over and filling out the immigration applications (such as P1, P2, Special Immigrant Visas, and I-131) shows students how legal concepts they study in class look in the real world. "I really like clinics and internships, that is how I have always been able to grow," said Golestanian. "A lot of the concepts we are taught in class did not fully make sense to me until I put them into practice. That is one way this opportunity helps students. You see how the process works, and you see where the roadblocks are and what needs to improve and what is working, too."
The ISC expects to continue to rely on Dickinson Law students well into the new year. Dodge is thrilled Dickinson Law can show up for neighbors in need. "This felt like a moral imperative to me in terms of helping people displaced from their home abruptly and coming to central Pennsylvania as our new neighbors," said Dodge. "It is a strong reflection of how we value and support our community more broadly. When people are imperiled and need help, we are willing to stand up and do what we can."