DICKINSON LAW PROFESSOR NAMED ATLANTIC FELLOW FOR HEALTH EQUITY
February 12, 2020 — Medha Makhlouf, assistant professor of law and founding director of the Medical-Legal Partnership Clinic at Dickinson Law, and assistant professor in the Department of Public Health Sciences at Penn State College of Medicine has been named to the Atlantic Fellows for Health Equity, a one-year, non-residential fellowship program that aims to create a global network of committed leaders working across societies and nations to promote health equity.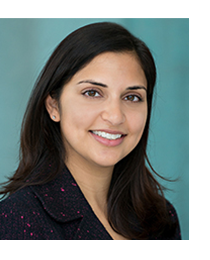 Makhlouf's fellowship project involves an innovative collaboration with the International Healthcare Professionals Program (IHPP), a community-based program to provide comprehensive support to international medical graduates who have settled in central Pennsylvania on their journey to becoming licensed physicians and nurses. Currently, IHPP provides educational and mentorship services to its members, which predominantly include physicians from Cuba. The fellowship will support Makhlouf's efforts to integrate legal services into the IHPP's holistic approach. Based on an initial assessment of legal needs, she anticipates that IHPP members will request assistance with public benefits matters and with immigration matters such as naturalization, family reunification, and "public charge" concerns, which relate to the immigration consequences of accessing public benefits. 
"This fellowship will be an invaluable experience for me to integrate health equity values into my teaching, service, and scholarship," said Makhlouf. "In addition, Dickinson Law students will provide useful services to a community that has the ability and the desire to give back to society in a way that will significantly advance health equity in the region by helping to create a more diverse and culturally competent healthcare workforce." 
The Atlantic Fellows for Health Equity is based at George Washington University's Fitzhugh Mullan Institute for Health Workforce Equity in Washington, D.C. Fellows are selected annually from the United States and from around the world based on a demonstrated prior commitment to health equity and leadership potential. Makhlouf is one of 21 members of the fourth cohort of fellows. In addition to four in-person convenings, the fellowship includes an online curriculum designed to develop comprehensive knowledge of health disparities, to assess strategies to address inequities in health and health career opportunities, and to build and leverage leadership skills. 
"Professor Makhlouf is not only an incredible person, scholar and teacher, but also a leader by example," said Dean and Donald J. Farage Professor of Law Danielle M. Conway. "Every fellow who will work alongside her will be better for experiencing her strength of character, depth of knowledge and commitment to justice. She is most deserving of this recognition."
As founding director of the Medical-Legal Partnership Clinic—a collaboration between the Law School and Penn State Health—Makhlouf works with Dickinson Law students to reduce health disparities and improve health in vulnerable communities through collaboration with medical providers and public health practitioners. Currently, the Clinic focuses on representing immigrants with legal needs relating to access to health-supporting public benefits. In addition to overseeing the Clinic, Makhlouf teaches Public Health Law and Law and Medicine. 
In 2017, Makhlouf was named a Health Law Scholar at the American Society of Law, Medicine and Ethics' Health Law Professors Conference where she presented her work "Health Justice for Immigrants," which examines the issue of disparities in access to health care in immigrant communities living in the United States through a social justice lens. 
Prior to entering academia and joining Dickinson Law's resident faculty, Makhlouf was a staff attorney at the Central West Justice Center in Worcester, MA; an associate attorney at Ropes & Gray LLP in Boston, MA; and a public interest fellow at Asylum Access in Quito, Ecuador and the Political Asylum/Immigration Representation Project in Boston, MA. She earned her Juris Doctor from Yale Law School and bachelor of arts degrees in human biology and middle east studies from Brown University. Her primary research interests lie at the intersection of health, law and poverty.