REMEMBERING H. JESSE ARNELLE '62 AND HIS MANY CONTRIBUTIONS TO DICKINSON LAW
November 24, 2020 — Peter G. Glenn, emeritus dean and professor of experiential learning at Penn State Dickinson Law, believes everyone encounters perhaps a dozen truly great people in life. H. Jesse Arnelle '62 was one of those people.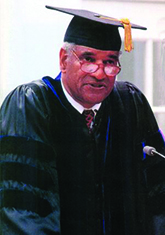 "I just loved the man. He was a remarkable person," said Glenn. "He was smart, both in a book sense and with people. He was honest and gentle, and I remember vividly the way he interacted with people."
Arnelle died last month at age 86. He leaves a legacy of giving that changed lives, and his contributions to Dickinson Law included creating the Law School's first scholarship earmarked for diversity and playing a pivotal role in the 1997 merger with Penn State.
"Over the recent weeks, my colleagues have shared many fond memories of their professional and personal relationships with Jesse," said Dickinson Law Dean and Donald J. Farage Professor of Law Danielle M. Conway. "I believe he recognized early on the importance of making a legal education accessible to students from underrepresented groups and the need to cultivate a diverse student body as evidenced by his gifts and his loyalty to Dickinson Law."
Arnelle endowed the Arnelle-Nurick-McIntosh-Marshall Scholarship at Dickinson Law in 1999, in memory of Gilbert Nurick, Arnelle's preceptor at the Law School; Joseph McIntosh, a local lawyer who let Arnelle use his law office to study during his Dickinson Law years; and Justice Thurgood Marshall, Arnelle's personal hero.
The scholarship gives first preference to first-generation college students and those whose "gender, ethnic, cultural, and/or national background contribute to the diversity of the student body." Nearly $120,000 has been awarded to thirty-four students through the scholarship, believed to be the first at Dickinson Law supporting diversity.
A life of legal and personal service
November is traditionally a time for giving thanks. Anyone who encountered Arnelle has a story of gratitude for a small kindness he performed.
Christine H. Kellett '75, emerita professor of law, remembers reaching out to Arnelle, whom she had never met, when she was teaching at Dickinson Law in the mid-1980s. She knew a young person who needed help with a legal issue in California, and Arnelle was in Oakland.
She penned him a letter introducing herself as a professor at his alma mater and requesting assistance. Arnelle asked an associate at his office to take care of the matter, and he wrote Kellett a letter in return, saying he was glad to help. Later, when she got to know Arnelle, Kellett saw how in character that generosity was.
Arnelle studied political science at Penn State as an undergrad and became the school's first African American student body president. He still holds the Nittany Lions' men's basketball record for rebounds and remains the program's only first-team All-American. Arnelle served stints in the NBA, the Peace Corps, and the United States Air Force. But the law proved to be his calling.
When the New York native enrolled at Dickinson Law, his class included just one other African American student and one woman, The Honorable Sylvia H. Rambo '62. Arnelle and Rambo formed a study group with another student and met every Friday.
"He was always very vibrant," said Rambo. "He was a studious person, a gentleman to the core. He was very humorous, too. I always looked forward to our time on Fridays."
Arnelle and a partner founded one of the nation's first African American-owned law firms to represent blue-chip companies. Even while working for prestigious clients such as Merrill Lynch, AT&T and Coca-Cola, Arnelle prioritized giving back to his schools, whether as a member of the Penn State Board of Trustees, where he served for forty-five years, including as president in the '90s, or leading the Law School's merger with Penn State.
Kellett and Glenn, who was dean at the time, worked with Arnelle on the merger. "He knew both institutions, and he loved both institutions," Glenn said. "He educated us about how Penn State had developed as a university."
"And he built us up with Penn State, he helped them see that we were great," Kellett said. "He had such loyalty to the Law School."
Arnelle boasted a long list of other accomplishments and accolades. At Penn State, he co-founded the Renaissance Fund, and served on the Campaign Steering Committee and National Development Council. In 1995, he received an honorary Doctor of Laws degree from Dickinson Law, and in June 2000, Penn State honored him with the Lion's Paw Award. He was and will always be a leader for the Dickinson Law community.