DICKINSON LAW DEAN AND DONALD J. FARAGE PROFESSOR OF LAW DANIELLE M. CONWAY HONORED BY AALS FOR CREATION OF ANTIRACIST CLEARINGHOUSE PROJECT
October 29, 2020 — Penn State Dickinson Law Dean and Donald J. Farage Professor of Law Danielle M. Conway has been honored with the Association of American Law Schools (AALS) Inaugural Impact Award with four other law school deans for the creation of the Law Deans Antiracist Clearinghouse Project. Launched in June, the project is a webpage for law deans, faculty, and the public that contains resources and information related to addressing racism in law and legal education.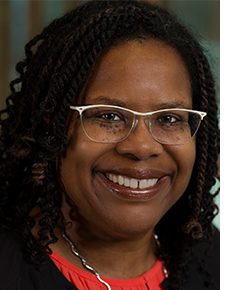 The AALS Executive Committee established the Impact Award this year to honor individuals or a group of individuals who have had a significant positive impact on legal education or the legal profession. As part of an online awards ceremony on Tuesday, January 5, Conway will be honored with her fellow law school deans and collaborators on the project: Danielle Holley-Walker (Howard University School of Law), Kimberly Mutcherson (Rutgers Law School), Angela Onwuachi-Willig (Boston University School of Law), and Carla D. Pratt (Washburn University School of Law).
"I applaud the AALS for helping me and my sister deans realize our vision of responding to racism and violence with a collective voice as Black women law deans," said Conway. "As has been the tradition of Black women advocates and community leaders, we used our collective voice and our shared experiences to curate the Law Deans Antiracist Clearinghouse Project. I am fortified by our sisterhood."
"The AALS thanks these five law school leaders for creating the Law Deans Antiracist Clearinghouse Project and is pleased to honor their efforts with the inaugural AALS Impact Award," said Darby Dickerson, AALS President and Dean of UIC John Marshall Law School. "These remarkable women conceptualized and created this phased guide to help law schools develop a sustainable antiracist agenda and provide resources and steps for each phase of the process. Given the project's impact, they are the perfect inaugural recipients."
"The five extraordinary deans who are receiving this award acted decisively in a moment that required a meaningful response from all of us in legal education," said Vince Rougeau, AALS President-elect and Dean of Boston College Law School. "In assembling these resources, they have provided their colleagues with a wonderful set of materials to support our work in building an antiracist future for our law schools, our profession, and our society."
About AALS
The Association of American Law Schools (AALS), founded in 1900, is a nonprofit association of 176 member and 17 fee-paid law schools. Its members enroll most of the nation's law students and produce the majority of the country's lawyers and judges, as well as many of its lawmakers. The mission of AALS is to uphold and advance excellence in legal education. In support of this mission, AALS promotes the core values of excellence in teaching and scholarship, academic freedom, and diversity, including diversity of backgrounds and viewpoints, while seeking to improve the legal profession, to foster justice, and to serve its many communities—local, national and international.