DICKINSON LAW ALUMNAE NAMED RECIPIENTS OF WOMEN'S LAW CAUCUS AWARDS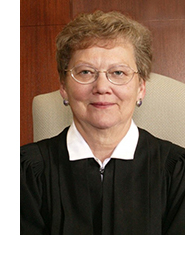 Penn State Dickinson Law's Women's Law Caucus (WLC) will recognize two alumnae with awards during a ceremony and reception in Lewis Katz Hall on March 22. Hon. Alicea Elloras-Ally (class of 1999), a family court judge in the City of New York, NY, will receive the Hon. Sylvia H. Rambo Award. Imani S. Woodyard (class of 2021), a staff attorney with MidPenn Legal Services in York, PA, will receive the Recent Alumna Award. The Honorable Sylvia H. Rambo (class of 1962) will make remarks during the ceremony. 
Honorable Sylvia H. Rambo Award
The Hon. Sylvia H. Rambo Award was introduced in 1993 by the Women's Law Caucus to honor its first recipient, Sylvia H. Rambo, a 1962 graduate of the Law School and the first woman to serve as chief judge of the U.S. District Court for the Middle District of Pennsylvania. Each year, the WLC honors a female in the legal profession who has had a distinguished career and who, by example, has made the professional success of other women more likely.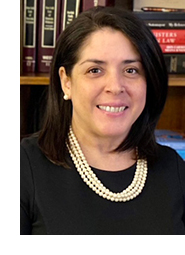 Elloras-Ally is a New York City Family Court Judge assigned to the Kings County Family Court where she has served since April 2015. During her tenure with the Family Court, she has presided over juvenile delinquency matters, family offense matters, and custody and visitation matters, and is currently assigned to handle child protective matters.
Elloras-Ally started her legal career as a staff attorney with the New York City Administration for Children's Services and appeared as lead counsel on hundreds of child abuse and neglect cases and at various stages of litigation. She went on to work as a court attorney with the New York City Family Court before transitioning to the New York State Supreme Court Criminal Term as a law clerk to the Honorable Danny K. Chun. Elloras-Ally began her judicial career when the deputy chief administrative judge of New York State appointed her to the position of support magistrate. Elloras-Ally is active in the legal community and in the New York State Court System. She is a member of the Puerto Rican Bar Association, the Latino Judges Association, the New York State Bar Association, and the New York City Bar Association. She was appointed to the Family Court Advisory and Rules Committee and serves as co-chair of the Equal Justice in the Courts Committee for the New York City Family Court. Elloras-Ally is member of the Commission to Reimagine the New York Court's Pandemic Practice Work Group. She frequently presents at the New York State Judicial Institute on various family law topics. Elloras-Ally is co-chair of the Gender Fairness Committee of Kings County Family Court, and co-chairs the Kings County Family Court Hispanic Heritage Month Celebration Committee. .
Elloras-Ally is as a member of the Penn State Dickinson Law's Diversity & Inclusion Trusted Advisors. She was the Law School's 2017 Convocation speaker, delivering remarks on hard work and balancing career and life. "When you leave here, I would encourage you to give back," she said during her remarks. "Mentor someone. Offer someone an internship or a job when you get to that capacity. The Law School can only be as successful as we make it. This place is special," she added. "The way we keep it special is by giving back."
Recent Alumna Award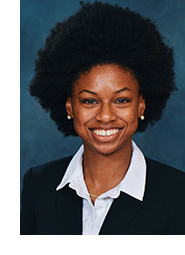 Created in 2020 by the WLC, the Recent Alumna Award recognizes a graduate of Dickinson Law within the last 10 years who was exceptionally dedicated to the Law School while a student or is exceptionally dedicated to her current work, a pioneer in her respective field, or someone who completed an extraordinary event while a law student, and who promotes encouragement of women in the legal field.
Woodyard is a staff attorney at MidPenn Legal Services, a non-profit, public interest law firm that provides free legal services to low-income individuals and survivors of domestic violence. In October 2022, she was named a "Rising Star" by the York County Bar Association.
At Dickinson Law Woodyard was a member and held leadership positions in many organizations including the Black Law Students Association, Diversity of Educational Equity and Inclusion Committee, Public Interest Law Fund, Phi Alpha Delta, and was a mentor through the Women's Law Caucus. She served as a Law Lion Ambassador and was a member of the National Trial Team. Woodyard interned at MidPenn Legal Services and the Pennsylvania Utility Law Project through the Martin Luther King Jr. Internship Program. She also was a Research Assistant and a two-semester Certified Legal Intern in the Community Law Clinic.
A list of past Rambo Award and Recent Alumna Award recipients is available online.