DEAN DODGE INTERVIEWED ON PODCAST ABOUT LGBTQ+ ADOPTION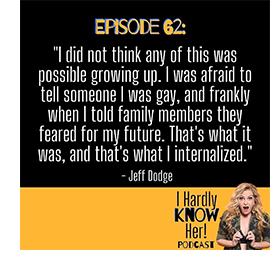 December 2021 — Jeffrey A. Dodge, Associate Dean for Academic and Student Services, Assistant Professor, and Joseph H. Goldstein Faculty Scholar, was recently interviewed by Megan McCaleb for her podcast "I Hardly Know Her."  The episode was a wrap up for her National Adoption Month series in November.  Dean Dodge was joined by his husband, Mark McLaughlin, to discuss the adoption of their two children, stigmas and legal challenges still facing the LGBTQ+ community in adoption, and the increasingly inclusive redefinition of family in our country.
Megan McCaleb is a self-described kooky comedian, improv coach, award-winning author, and a single mom of four. She's also a birth mom and an adoption advocate, a recovering Mormon, and tender-heart who just likes to flap her yapper a whole lot about, well, a whole LOT of topics.  "I Hardly Know Her" brain-dumps about business, personal growth, motherhood, adoption, relationships, and her obsession with improv-skills-turned-life-methodology.
---
Associate Dean Jeffrey A. Dodge has spent over 15 years in legal education. Dean Dodge has broad experience overseeing law school and University-level offices of student services, international programs, admissions, academic success, career services, and more. He has taught and presented on topics in the fields of family law, international human rights, and comparative law. His scholarship focuses on the intersections of family law and inequity, and law school academic success and diversity. Dean Dodge is currently the vice chair of the Association of American Law Schools (AALS) Student Services Section. He previously served as chair of both the AALS Sexual Orientation and Gender Identity Issues and International Legal Exchange sections. Dean Dodge has served on the national diversity committee of the Law School Admissions Council Diversity Committee, as an American Bar Association accreditation site evaluator, and a two time director of the CLEO Pre-Law Summer Institute.