DEAN DANIELLE M. CONWAY TO PARTICIPATE IN AALS DISCUSSION ON "DEMOCRACY AND THE STATE OF LAW SCHOOL EDUCATION" ON MAY 4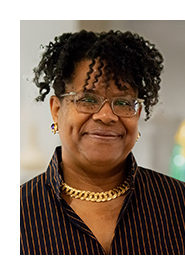 May 2023 — Danielle M. Conway, Dean and Donald J. Farage Professor of Law at Penn State Dickinson Law, will participate in a panel discussion on "Democracy and the State of Law School Education" as part of the Association of American Law Schools Conference on Defending Democracy. This virtual, nonpartisan Conference will take place on May 4, 2023 from 11 a.m. to 4 p.m. EST.
Mark C. Alexander, Arthur J. Kania Dean and Professor of Law at the Villanova University Charles Widger School of Law and 2023 AALS President, notes that the AALS conference "will examine how law schools play a critical role in the future of our country and our democracy. The legal profession has never had a higher profile and greater exposure than over the last few years. Lawyers have shaped and will continue to shape our democracy. What, then, is our responsibility as educators of future lawyers? Defending democracy is not about politics. It's about what we can do together."
The program will consist of three panels and will explore the State of the Union three years following the January 6 insurrection; the role legal education plays in defending democracy; and identifying the challenges to our democracy that are specifically rooted in Election Law. Registration and additional information on the conference is available online.
---
In 2021, Dean Conway joined 13 other law deans to co-author Beyond Imagination?: The January 6 Insurrection. Together, these American law school deans examined the events of January 6 from a legal perspective, in hopes of moving the nation forward towards healing and a recommitment to the rule of law and the Constitution. For more information about Beyond Imagination visit https://faculty.westacademic.com/Book/Detail?id=342043.
---
Danielle M. Conway is the Dean and Donald J. Farage Professor of Law at Penn State Dickinson Law. A leading expert in procurement law, entrepreneurship, and intellectual property law, Dean Conway joined Dickinson Law after serving for four years as dean of the University of Maine School of Law and 14 years on the faculty of the University of Hawai'i at Mānoa, William S. Richardson School of Law. Dean Conway's scholarly agenda and speeches have focused on, among other areas, advocating for public education and for actualizing the rights of marginalized groups and promoting systemic equity in legal education and the profession. Under her leadership, Dickinson Law's Antiracist Development Institute (ADI) was created to facilitate the dismantling of structures that scaffold systemic racial inequality by using a systems design approach focused on implementing antiracist practices, processes, and policies throughout organizations.
Dean Conway is the co-recipient of the inaugural Association of American Law Schools' (AALS) Impact Award, which recognized her work in co-curating the Law Deans Antiracist Clearinghouse Project, a webpage for law deans, faculty, and the public that contains resources and information related to addressing systemic racism in law and legal education. Dean Conway is an elected member of the American Law Institute, a member of the AALS Executive Committee, and a director of the AccessLex Institute.