DEAN DANIELLE CONWAY DELIVERS DERRICK BELL LECTURE FOR UNIVERSITY OF OREGON SCHOOL OF LAW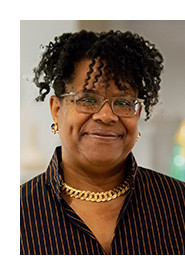 February 2023 — Danielle M. Conway, Dean and Donald J. Farage Professor of Law at Penn State Dickinson Law, was the the keynote speaker at the Derrick Bell Lecture on Wednesday, February 1 at University of Oregon School of Law. The Derrick Bell Lecture is a collaboration between the University of Oregon School of Law and the Division of Equity Inclusion. The lecture is a part of the African American Workshop and Lecture Series, sponsored by the DEI and the office of the University of Oregon president. The lecture will be available via livestream.
Dean Conway delivered her remarks, titled "Practicing Antiracism Unapologetically: Using Professor Derrick Bell's thesis of the permanence of racism as inspiration for Building an Antiracist Law School, Legal Academy, and Legal Profession." Derrick Bell served as the first African American dean of the University of Oregon School of Law from 1980 to 1985. He is considered one of the most influential voices in the foundation of Critical Race Theory, a framework that examines society and culture as they connect to race, law, and power.
Below, Dean Conway shares a description of her talk:
"Derrick Bell's thesis of the permanence of racism and his theory of interest convergence are often viewed through a lens of pessimism and linearity. I have chosen to read Professor Derrick Bell's thesis and theory as a challenge to ideate, prototype, and test solutions for a more just and equal multiracial American democracy that will tap into the law's emancipatory power. In articulating a definition for and a movement around antiracism — focused not on individuals but instead on institutional processes, policies, and practices — more attention can be placed on visualizing those structures, norms, laws, and customs that allow systemic racism, racial inequality, and oppression to pervade American institutions. Eschewing a linear approach, I countenance unapologetic engagement with antiracism using a systems design approach to accept Professor Bell's challenge.
One of many reasons to engage with antiracism unapologetically is to contest the operation of racial default rules. Racial default rules fuel racial myths and root false dichotomies to scaffold systemic racial inequality in America. False dichotomies pervade any discussion of race in America. For example, if someone says I love Brussels Sprouts, that does not mean the person does not like other vegetables. If someone says I love women, default rules do not imply a hate for men. But when someone says I love Black people or that Black lives matter, the American racial default rules are placed in gear and the immediate response is to ascribe to the speaker, by definition, a hate for white people. This racial default rule — built on the false dichotomy — does not distinguish between a person who identifies as white and the injustice of white supremacy that uses racial hierarchy to elevate whiteness through the exercise of power, domination, and control while simultaneously disadvantaging Black and brown people.
The application of racial default rules erroneously makes the very engagement with antiracism controversial when it need not be. For many Americans, lack of knowledge about the history of Black people in this country from 1619 onward colonizes their views about the meaning of antiracism. The operation of the racial default rules leads people to consider antiracism to be divisive in the same way that expressing positive, pro-Black sentiments would mean a rejection of white identity. These are the false dichotomies and racial default rules at work.
Legal education and the profession must not sit on the sidelines avoiding engagement with antiracism, when the legal institution has a central role — through obligation and responsibility — in untangling at the most fundamental levels the Gordian knot of systemic racial inequality under the American rule of law to uncover the path to reasoned, democratic discourse about the reality of racism and the solemn duty of the legal academy and the legal profession to pursue systemic racial equity, equality, and justice through an unconditional commitment to anti-subordination and anti-oppression. This is the reason for law schools, the legal academy, and the legal profession to engage with antiracism intentionally. Legal education and the legal profession must lead this work as an example to all other democratic institutions.
The purpose of this talk is to ground a definition of antiracism and its implementation and to convey why the legal profession must lead this work. As well, I will discuss the compelling necessity to engage with antiracism if our nation's objective is to have a well-functioning, organized, civilized multiracial and multicultural society. Finally, this talk will convey why law schools, the legal academy, and the legal profession have a duty to engage antiracism unapologetically."
​​To learn more about the Derrick Bell Lecture, please visit https://law.uoregon.edu/life-law/diversity/engagement.
---
Danielle M. Conway is the Dean and Donald J. Farage Professor of Law at Penn State Dickinson Law. A leading expert in procurement law, entrepreneurship, and intellectual property law, Dean Conway joined Dickinson Law after serving for four years as dean of the University of Maine School of Law and 14 years on the faculty of the University of Hawai'i at Mānoa, William S. Richardson School of Law. Dean Conway's scholarly agenda and speeches have focused on, among other areas, advocating for public education and for actualizing the rights of marginalized groups and promoting systemic equity in legal education and the profession. Under her leadership, Dickinson Law's Antiracist Development Institute (ADI) was created to facilitate the dismantling of structures that scaffold systemic racial inequality by using a systems design approach focused on implementing antiracist practices, processes, and policies throughout organizations.
Dean Conway is the co-recipient of the inaugural Association of American Law Schools' (AALS) Impact Award, which recognized her work in co-curating the Law Deans Antiracist Clearinghouse Project, a webpage for law deans, faculty, and the public that contains resources and information related to addressing systemic racism in law and legal education. Dean Conway is an elected member of the American Law Institute, a member of the AALS Executive Committee, and a director of the AccessLex Institute.