CORENS COMMIT AN ADDITIONAL $1 MILLION TO PENN STATE DICKINSON LAW
December 15, 2021 — Steven M. Coren, a 1980 graduate of Penn State Dickinson Law, had not visited campus in more than three decades when he attended a 2016 Dickinson Law alumni event in Philadelphia where then-Dean Gary Gildin spoke. "Dean Gildin mesmerized attendees with Dickinson Law's accomplishments and plans," said Coren.
He decided he needed to see for himself the things Gildin mentioned, so Coren traveled to Carlisle. "I attended a class and was highly impressed by the new facilities and the energy of students, faculty, and staff," said Coren. "We discussed Gary's vision for the Law School: 'Practice Greatness', a catchy slogan but, more importantly, a roadmap for a proud future. Within hours, I committed to fund a scholarship — which was matched dollar-for-dollar by Penn State through its [now concluded] Graduate Scholarship Matching Program — to help others to receive the world-class legal education that I had received from Dickinson Law many years ago."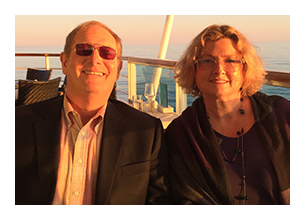 As Coren drove home, he realized that his enthusiasm had gotten the better of him. He had neglected to discuss his commitment with his wife, Leslie. When he told her, she offered her enthusiastic approval, and the two began mulling ways they could extend their gift in the future.
Recently, the Corens made that additional commitment to Dickinson Law. They will enhance the Steven M. and Leslie K. Coren Scholarship Fund through a combined bequest and charitable remainder unitrust (CRUT), resulting in a $1 million commitment — the largest gift made to Dickinson Law during the current University-wide "A Greater Penn State for 21st Century Excellence" campaign and among the largest in the Law School's history.
The Corens said they appreciate the vision shown by Dean and Donald J. Farage Professor of Law Danielle Conway, who succeeded Dean Gildin, and wanted to show their continued support for her and the Law School.
"When Dean Gildin passed the torch to Dean Conway, and we spent some time with our new dean, we were hooked again," said Coren. "Dean Conway's mission to propel Dickinson Law to national prominence in the areas of diversity, inclusion and racial justice are spot-on, and my wife and I planned to increase our scholarship commitment. Convinced that Dean Conway has walked the walk, not just talked the talk, we are pleased to contribute more."
"Steve and Leslie — and their dedication and advocacy for Dickinson Law and the vision priorities I have outlined — are making it possible for Dickinson Law to lead, innovate, and effect positive change in legal education and the legal profession," said Conway. "Through their continued investment in the Law School, they are leading by example, creating paths for students to follow their passions, and providing the support necessary to solidify Dickinson Law's status as an institution of legal excellence. I admire Steve and Leslie, and I am grateful for their unwavering commitment to Dickinson Law."
Selecting the right gifts
The Corens worked closely with Kelly Rimmer, director of development and alumni affairs at Dickinson Law, and Judy Spiegel, director of gift planning at the University, to structure the gift and achieve their philanthropic and financial goals. Leslie, a University of Pennsylvania graduate and former president of the Philadelphia Calligraphers' Society, was a partner in directing support to Steve's law school alma mater.
The couple added a $500,000 bequest to Dickinson Law to their estate plan and directed an additional $500,000 to create the CRUT. The CRUT will pay the Corens a variable amount of income (a portion of which is tax-free), redetermined annually and based on a fixed percentage of the fair market value of the trust assets for the rest of their lives. The Corens also benefit from a charitable deduction in the year the trust was funded.
When realized, the Corens' gift will add to the available resources of the existing Coren Scholarship, which offers first preference to students interested in entering public service. The Corens recognized that the need to repay loans could prohibit recent law school graduates from taking critical jobs in public service, which often pay less than private-sector positions.
"You cannot come out of law school hundreds of thousands of dollars in debt and take a job that pays $30,000 a year," said Coren. "Public service is an important calling, and we wanted to encourage people to do it, to give them the flexibility to do it by helping out with their finances."
The Corens have enjoyed the opportunity to see their gift in action. They attended a banquet a few years ago where they met the first recipient of their scholarship and her mother. "It was a thrill to hear the student speak," said Coren. "We were honored to play a part in her legal education, and we hoped to someday be in a position to do more."
Doing more for Dickinson Law
Coren, a founding shareholder of Kaufman, Coren & Ress, P.C., in Philadelphia, has enjoyed his own successful legal career. As a litigator, he has settled or tried to verdict cases resulting in recoveries exceeding hundreds of millions of dollars. He has received recognition by The Best Lawyers in America for 10 years running and earned the Super Lawyer designation from Philadelphia Magazine.
Coren has given a lot to his profession, and he feels lucky to be able to give back to Dickinson Law as well. After connecting with Dean Gildin, he joined the Law School's advisory board, now known as the Dickinson Law Leadership Council Advisory Board, where he found inspiration from fellow Dickinson Law graduates. He hopes to continue to make a difference for new students well into the future.
"I have been encouraged by and honored to serve on the board with legal giants — such as Judge Sylvia H. Rambo, Governor Tom Ridge, Pennsylvania Attorney General LeRoy Zimmerman, H. Laddie Montague Jr., and countless others — and I challenge my fellow Dickinson Law alums to contribute what they can to the Law School that continues to make them proud," said Coren.
With the Corens' generous bequest and CRUT, Dickinson Law moves closer to meeting its goal of raising $16.4 million by June 30, 2022. The gift advances "A Greater Penn State for 21st Century Excellence," a focused campaign that seeks to elevate Penn State's position as a leading public university in a world defined by rapid change and global connections. With the support of alumni and friends, "A Greater Penn State" seeks to fulfill the three key imperatives of a 21st-century public university: keeping the doors to higher education open to hardworking students regardless of financial well-being; creating transformative experiences that go beyond the classroom; and impacting the world by serving communities and fueling discovery, innovation, and entrepreneurship. To learn more about "A Greater Penn State for 21st Century Excellence," visit greaterpennstate.psu.edu.