ASSOCIATE DEANS DODGE AND SAIDMAN-KRAUSS SERVE AS KEYNOTE SPEAKERS AT PENN STATE'S LEAD THE PRIDE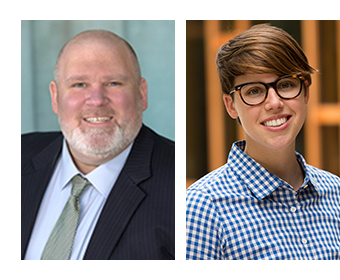 November 2020 — On November 7, 2020, Associate Deans Jeffrey A. Dodge and Bekah Saidman-Krauss served as the keynote speakers at Penn State's Lead the Pride. Their keynote address was titled "Leadership and the First Amendment: Making Your Voice Heard."  Their remarks introduced attendees to the legal framework of the First Amendment and its application to college campuses, events, and leadership.
Lead the Pride is an annual student leadership event that is organized by the Office of Student Activities and is open to students across the Commonwealth.  The day-long program focused on enhancing leadership skills and networking with other student leaders.
---
Associate Dean Jeffrey A. Dodge has spent over 15 years in legal education. Dean Dodge has broad experience overseeing law school and University-level offices of student services, international programs, admissions, academic success, career services, and more. He has taught and presented on topics in the fields of family law, international human rights, and comparative law. His scholarship focuses on the intersections of family law and inequity, and law school academic success and diversity. Dean Dodge is currently the vice chair of the Association of American Law Schools (AALS) Student Services Section. He previously served as chair of both the AALS Sexual Orientation and Gender Identity Issues and International Legal Exchange sections. Dean Dodge has served on the national diversity committee of the Law School Admissions Council Diversity Committee, as an American Bar Association accreditation site evaluator, and a two time director of the CLEO Pre-Law Summer Institute.
Bekah Saidman-Krauss is Associate Dean for Admissions and Financial Aid at Penn State Dickinson Law.  She earned her B.A., cum laude, in comparative religion at Smith College, where she also worked as a research assistant for the Chair of the Program for the Study of Women and Gender. She later earned her J.D. from Penn State Dickinson Law, where she served as comments editor for the Penn State Law Review and was inducted into the Woolsack Honor Society. During her time at Dickinson Law, Saidman-Krauss worked for Judge Thomas I. Vanaskie of the U.S. Court of Appeals for the Third Circuit and for Judge Yvette Kane of the Middle District of Pennsylvania. After graduating from Dickinson Law, she joined Troutman Pepper's (formerly Pepper Hamilton) Philadelphia office as a litigation associate but eventually returned to her law school alma mater to oversee the admissions operation. As the Associate Dean for Admissions & Financial Aid at Dickinson Law, Dean Saidman-Krauss has played an instrumental role in seating Penn State Dickinson Law's diverse and highly credentialed entering classes.  Her many contributions include redrafting Dickinson Law's application to include optional questions that broaden the law school's definition of diversity to include—in addition to women and racial and ethnic minorities—adult learners, individuals with disabilities, first generation college and graduate students, members of the LGBTQ community, and veterans.  In 2016, Saidman-Krauss received the Outstanding Service Award from Penn State's Commission for LGBTQ Equity in recognition of her efforts to improve the climate of diversity and inclusion for LGBTQ-identified individuals at Penn State. In 2017, she was invited to join the Sexual Orientation & Gender Identity Subcommittee of the Law School Admissions Council's (LSAC) Diversity Committee and helped to plan the inaugural LSAC Equality Conference, which focused on building, maintaining, and promoting LGBTQ+ inclusive environments in law schools nationally.