NEW DICKINSON LAW BLOG OFFERS LEGAL INSIGHTS TO ENTREPRENEURS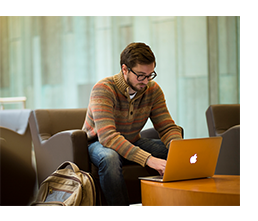 September 12, 2018 — A new blog called Inside Entrepreneurship Law allows Dickinson Law students to demonstrate their substantive knowledge, showcase writing and analytical skills, and stay top of mind with trends in their career path of choice while providing legal insights to entrepreneurs and small business owners.
As part of entrepreneurship law courses taught by Assistant Professor of Legal Writing and Entrepreneurship Samantha Prince, second- and third-year law students are required to draft and submit blog posts about timely topics of interest to entrepreneurs and their legal advisors. While drafting posts, students draw from their interests, internship experience, and education at Dickinson Law.
"The posts are designed to address common issues that are pertinent to entrepreneurs and small business owners," said Prince, who moderates the blog. "These issues can range from entity formation and raising capital to intellectual property and employment issues."

According to Prince, blogging helps her students examine a real-world small business or entrepreneurship legal matter and relay concise, helpful information.
The benefits of blogging extend beyond the classroom for third-year Dickinson Law student Bakri Fustok: blogging keeps him informed on new laws, amendments, regulation, and guidance in practice areas. "Whether you are writing a blog on a new revenue ruling or an opinion from a recently decided case, blogging keeps you aware and on your toes about what is being discussed in the various areas that might not be covered as much in the classroom setting."
Fustok currently has one post published on the blog, and he's excited to contribute more.
"I think that the opportunity to contribute to a blog is excellent preparation for adapting to an era where technology is a significant part of the industry," said Fustok. "Whether your blog provides information or guidance to current or potential clients, it is crucial to be able to get a feel for how these blogs are put together to help your firm or business. In addition to adaptation, I find that blogging helps in establishing a more formal way of contribution online, where a great deal of people use social networks and might not communicate in the most professional way. Blogging allows current and future attorneys to get used to a proper way of posting online."
Inside Entrepreneurship Law features a new post each Monday morning. To subscribe, visit https://sites.psu.edu/entrepreneurshiplaw/.