VENUS L. RICKS JOINS DICKINSON LAW'S ANTIRACIST DEVELOPMENT INSTITUTE AS PROGRAM COORDINATOR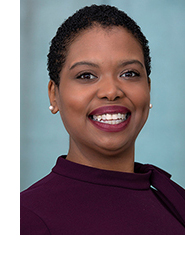 February 2023 — Throughout her entire career, Venus L. Ricks has focused on work that changes lives. Whether serving as the Commonwealth's first director of diversity, equity, and inclusion or leading multicultural affairs departments at a college or university, Ricks always placed antiracism at the center of that work.
She recently joined the Antiracist Development Institute (ADI) at Penn State Dickinson Law as program coordinator. Here, she is eager to approach antiracism in a new way, building on what she has learned from her previous positions.
"We have to get people to shift their thoughts and mindset," said Ricks. "If we do not do some work, some real, intentional, and thoughtful work with racism, we won't move forward with fighting other ills and -isms in our society."
Ricks is particularly drawn to the ADI's unique focus on systems design. She appreciates the potential for offering organizations across the nation a design-based approach to implementing antiracist policies and practice.
"I was attracted by that system design piece," said Ricks. "With this model, we can feel, do, and make sustainable change. We know racism is harming individuals. How do we work for institutional spaces that reject racism on all levels? We think about it in a systemic way so that real change can happen."
She noted that talking about theory is critical. The ADI, she said, offers a path to turning talk into action—what she termed "the actual practical part that moves the needle, that gets institutions funding in a different way, hiring in a different way, accepting students in a different way, teaching curriculum in a different way."
A graduate of Susquehanna University, Ricks spent years in higher education before accepting the DEI job with the state in 2021. She worked at Smith College for three years, first as area coordinator and later as acting director of multicultural affairs, where her duties included designing and implementing student leader training programs on diversity and social justice.
From there, she joined the University of Massachusetts Amherst, where she earned her Master of Education, and upon completion, served as a student development specialist at the institution. She then returned to Pennsylvania to lead multicultural affairs at Lebanon Valley College and teach as an adjunct professor. Additionally, Ricks has held adjunct faculty positions at Temple University's Harrisburg campus and Harrisburg Area Community College.
In her spare time, Ricks enjoys reading and spending time with her two nieces and nephew. She is active in her sorority, Sigma Gamma Rho Sorority, Inc., Greater Harrisburg Alumnae chapter, and unwinds by watching reality television in between documentaries.
For now, her immediate goals for the ADI include collaborating with colleagues on raising the Institute's profile and assisting in the progression of the "Building an Antiracist Law School, Legal Academy, and Legal Profession" book series project. "What we are doing is 21st-century civil rights work. It is historical," said Ricks.