TRUDY FEHLINGER '06 AND CHARLES FEHLINGER '09 COME FULL CIRCLE WITH SCHOLARSHIP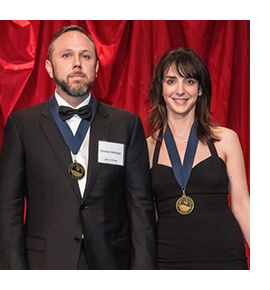 When Trudy Fehlinger '06 and Charles Fehlinger '09 met as undergrads at King's College in Wilkes-Barre, they both knew they wanted to become attorneys. So they decided to tour law schools together.
They had a few criteria. They wanted to stay close to Luzerne County, where they both hail from. They wanted a smaller school. And they wanted a place where students had personal relationships with their professors. Penn State Dickinson Law checked all the boxes.
Plus, there was an intangible.
"I had a lot of interest in coming to Dickinson because of the historical significance," says Charles. "Dickinson Law is the oldest law school in the state and one of the oldest in the country. To have that in PA, and also for the school to be in Carlisle is significant — at one point, Carlisle could have been the nation's capital."
Charles decided to pursue his Master of Business Administration at Penn State Harrisburg before going to law school. Trudy enrolled in Dickinson Law in 2003 and received the Yelin Family Scholarship, given to academically qualified students from northeastern Pennsylvania who need financial assistance.
From the moment Trudy earned the scholarship, she knew she wanted to sponsor one herself someday.
"It was important to us to fulfill that desire to give back when we were able to," Trudy says.
The Fehlingers found the perfect opportunity during the recently ended Graduate Scholarship Matching Program, when the university matched commitments made by alumni. The Fehlinger Family Scholarship at Dickinson Law gives first preference to a graduate of King's College. Second preference goes to a student interested in becoming an entrepreneur or working with businesses and entrepreneurs.
It offers $10,000 per year to a student, or $5,000 per semester, in perpetuity.
"We are very excited to help students pursue their law degree at Dickinson Law," Trudy says.
Recognizing their roots is important to the couple, who have two young children. The Fehlingers still maintain close connections with lots of classmates and professors from their Dickinson Law years.
"It's just a great community," Charles says. "We meet so many Dickinson lawyers. It's a tight-knit group."
"I don't know if that's the same at other schools," Trudy muses. "At Dickinson Law, you find very quick friendships."
Soon after they graduated from Dickinson Law, Trudy joined Eckert Seamans in Harrisburg, and Charles entered the construction industry. Today, Charles is an owner of Fehlinger Construction Group, LLC, which performs work in the utility and oil and gas sectors.
Trudy and Charles are also starting a new law firm and a strategic communications and government relations practice with close friends. They were inspired in part by a desire to provide clients with superior service without the frustrations and crushing costs often associated with legal matters.
"Our lawyers offer more experience to our clients than just as practicing attorneys; they are civic leaders, educators, and business owners, and they have been clients themselves. Our lawyers have a unique understanding of the challenges clients face," Charles says.
As lawyers, business owners, and parents, Trudy and Charles also want to take a different approach to the practice of law. "We want an environment where lawyers don't burn out in just a few years and where people are happy doing what they do. It's important to us that people have the ability to engage in other fulfilling endeavors and hobbies and to spend meaningful time with their families," Trudy says.
Their soon-to-launch firms, Quincy Law Group, LLC, and Quincy Strategies, LLC, take their names from John Quincy Adams, the nation's sixth president. "Quincy" also happens to be the middle name of the Fehlingers' son. This did not escape the notice of their daughter, whose middle name is Abigail.
"She overheard us talking about the new law firm and said, 'How come it's not Abigail Law Group?'" Trudy says.
"We said, 'We're waiting for you to start that after you graduate from Dickinson Law,'" Charles says.
____________________
On April 27, 2019, Chuck and Trudy Fehlinger were inducted as members of Penn State's Mount Nittany Society, which celebrates the University's most generous donors and the impact of their gifts. Recognition is given to individuals whose cumulative lifetime giving to Penn State exceeds $250,000 in irrevocable commitments.