A TRIBUTE TO JUSTICE RUTH BADER GINSBURG BY DANIELLE CONWAY, DEAN & DONALD J. FARAGE PROFESSOR OF LAW, DICKINSON LAW AND HARI OSOFSKY, DEAN OF PENN STATE LAW AND PENN STATE SCHOOL OF INTERNATIONAL AFFAIRS
September 24, 2020 — As the second woman and first Jewish woman to serve on the Supreme Court, Justice Ginsburg broke barriers and opened doors. Her effective advocacy created opportunities for women in the legal academy and profession. We are beneficiaries of her leadership—with women heading both of its independent law schools, Penn State advances her legacy.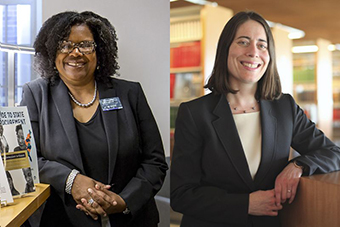 The impact of Justice Ginsburg's life in law is reflected in her experience as a woman battling discrimination, subordination, and inequality. We will use her  blueprint for justice to dismantle barriers to equality, especially those at the intersections of race, gender identity, sexual orientation, age, religion, and disability, among others.
Justice Ginsburg's unwavering dedication to gender equality allows us to  embrace new, dynamic approaches to extending principles of equity and fairness to those who have been marginalized in our society. Our work, and the progress that we make, in preparing our respective students for the practice of law will stand as a tribute to the indefatigable Justice Ruth Bader Ginsburg.