THIRD-YEAR LAW STUDENT NAMED RURAL SUMMER LEGAL CORPS STUDENT FELLOW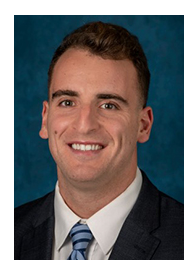 June 15, 2021 — Penn State Dickinson Law third-year law student Michael McDonald was recently named a Student Fellow as part of the Rural Summer Legal Corps Fellowship. Selected from 460 applications, McDonald is one of 35 law students who will serve in the Rural Summer Legal Corps' 2021 class.
The Rural Summer Legal Corps is a partnership between the Legal Services Corporation (LSC) and Equal Justice Works that supports 35 dedicated law students who want to spend their summer addressing pressing legal issues facing rural communities. Student Fellows have the unique opportunity to explore their passion for public interest law while gaining valuable legal skills and experience at LSC-funded civil legal aid organizations. Following the completion of 300 hours of service in the program, the fellows earn a $5,000 stipend.
"My experience as a housing caseworker in the Jesuit Volunteer Corps and my clinical experiences at Dickinson Law sparked my interest in applying for this fellowship," said McDonald.
McDonald will be hosted by Legal Aid Services of Oklahoma Inc., where he will assist the organization's Guymon office in expanding services to migrant workers on a variety of matters, including family law, housing, consumer law and public benefits. He also will lead an effort to create a housing guide to increase agricultural workers' knowledge about housing rights and options.
"This fellowship provides me with the distinguished opportunity to assist clients, especially migrant workers in critical rural communities, that are in desperate need of effective legal assistance," said McDonald.
"It was a pleasure working with Michael as he explored this opportunity and prepared for his interview," said Laura H. Williams, assistant dean for administration at Dickinson Law. "Michael is exactly the right student for this program. I have no doubt that he will serve the clients of rural Oklahoma with his creative energy."
"The COVID-19 pandemic has intensified the difficulties that agricultural workers face in accessing critical civil legal services," said Aoife Delargy Lowe, vice president of law school engagement and advocacy at Equal Justice Works. "We are proud to have Michael join the Rural Summer Legal Corps, where he will have the opportunity to help agricultural workers better understand their housing rights and options."
"Courses such as Advocacy and the Medical-Legal Partnership Clinic, as well as serving as an advocate on the National Trial Team, have helped to prepare me to be an effective advocate for my clients," said McDonald. "I look forward to gaining valuable experience by helping clients through these unprecedented times to become a more effective advocate for clients in many aspects of the law in the future."