ROSALIND LISTER JOINS DICKINSON LAW AS ASSISTANT DIRECTOR OF CAREER SERVICES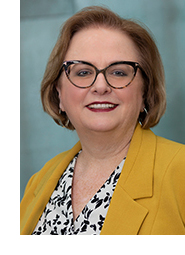 February 2023 — When Rosalind Lister decided it was time for a new challenge, she came across the posting for the assistant director of career services position at Penn State Dickinson Law. "In reading the job description, I thought 'this sounds ideal!' This position combines a number of things that I really enjoy about work in law career services. There was much familiar, but also new things to learn and grow from," said Lister.
Lister applied for the job, and upon coming to campus for an interview, she was sold. "The people I met were so welcoming and friendly, and the atmosphere was one of everyone 'rowing together in the same direction.'" Lister was chosen for the position and began working as assistant director of career services at Penn State Dickinson Law on January 1, 2023.
In welcoming her to Dickinson Law, Director of Career Services Tom Lee noted that "Ros spent the last 16 years in various career services office roles at West Virginia University College of Law and has over thirty years of career development experience in higher education. Ros also has a Master of Science in Education in Counseling from Purdue University. We are thrilled to have her join our Dickinson Law family!"
Now after almost two months on the job, Lister commented that "a favorite part of my job — and a big part of my job — is career advising one-on-one with students." For this reason, each day Lister has blocks of time set aside for student appointments. "Working with students is what I enjoy most and where I get my career energy. One thing I have loved to hear is 'I feel better after talking with you.' For a person with a counseling degree, that is always wonderful to know!"
Enhancing diversity in law is also important to Ros, and one thing she is pleased about is reintroducing the Allegheny County Bar Association's Summer Clerkship Program. The Program is open to first-year diverse law students who identify as persons of color, disabled (as defined by the ADA), or as LGBTQ+. Lister has been pleased at the enthusiasm of 1L students about this program and by the fact that a number of students have interviews lined up through it.
When asked about goals or programs that she would like to implement at Dickinson Law, Lister indicated, "Going through the cycle of a year to see how things are handled is important to best learn the ropes in my new position. I think visibility is also important in my role and so I have already been able implement 'Tune-Up Tuesday,' which takes place each Tuesday from noon to 1:30 p.m. in the Commons. I table during that time and students can stop by with career-related questions, quick resume questions, or cover letter checks, etc. I have received positive feedback from students for this program, and it has helped me introduce myself to the Dickinson Law community as a whole. I think I would also like to learn more about Dickinson Law's approach to public interest, as that is a strong aspect of Dickinson Law."
Lister earned her M.S.Ed. in Counseling and College and Student Personnel and her B.A. in Communications from Purdue University. When she is not working, she enjoys spending time with family and friends. She also enjoys cooking, gardening, and travel, and notes that she is also a keen team trivia player.