PROFESSOR TONYA M. EVANS ANNOUNCES FORTHCOMING ARTICLES RELATED TO INTERDISCIPLINARY WORK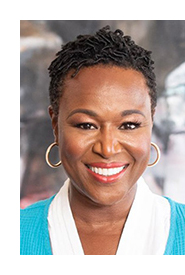 March 2022 — Professor Tonya M. Evans has announced two forthcoming articles related to her interdisciplinary work: "The Genesis of Creative Justice: Disintermediating Creativity," 26 LEWIS & CLARK LAW REVIEW 3 (2022) and "De-Gentrified Black Genius: Blockchain, Copyright & the Disintermediation of Creativity," 49 PEPPERDINE L. REV. 101 (2022). She will be discussing her findings on creative justice in a web 3.0 world on PBS NewsHour and also in a Twitter Spaces event on March 4 hosted by the Wall Street Journal.
---
Professor Tonya Evans has expertise in the areas of intellectual property, new technologies (including crypto assets and distributed ledger technology), entrepreneurship and innovation, entertainment law, trusts and estates, and municipal finance. She writes, speaks, and teaches primarily about the intersections of copyright and new technologies, blockchain and the law, and trusts and estates. Professor Evans serves on the Intellectual Property Committee of the Advisory Council to the Court of Federal Claims and is the former chairperson of the Maker DAO's Maker Ecosystem Growth Foundation. She is also founder of the Advantage Evans™ Academy (an inclusive online crypto education and onboarding platform), and host of the Tech Intersect Podcast, a weekly podcast that highlights new and notable experts at the intersections of law, business and technology. Professor Evans was named to the 2021 Forbes 50 Over 50 Investment List and the Fastcase 50 2021, which honors the law's smartest, most courageous innovators, techies, visionaries, and leaders. She received the inaugural Enterprise Blockchain Award in the category of Governance and Policy Leadership during the 2019 Blockchain Revolution Global Conference in Toronto.