PROFESSOR SABRINA SONDHI SPEAKS AT CANADIAN ASSOCIATION OF LAW LIBRARIES CONFERENCE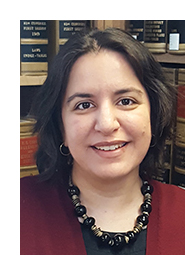 May 2023 — Professor Sabrina Sondhi was invited to speak at the Canadian Association of Law Libraries/Association Canadienne des Bibliothèques de Droit (CALL/ACBD) 2023 Conference held in Hamilton, Ontario May 28-31. Along with Eve Leung and Kim Nayyer, she spoke on a panel titled "Advocating for Yourself and Your Law Library."
In this program, panelists shared examples and techniques of innovative advocacy that they have used, in a range of law school and law firm library settings. Their examples illustrated the myriad ways library staff can look at their resources, teams, and innovative activities through the lens of higher-level decision-makers and funders. The goal of the panel was to help participants learn how to develop and implement strategies and techniques to be able to build a case to demonstrate how their work merits attention, investment, and reward.
This is Professor Sondhi's second time speaking at the CALL/ACBD conference. She was invited to speak at last year's conference on a panel titled "Innovative Ways for Academic Librarians to Demonstrate Value."
---
Sabrina Sondhi is the Director of the H. Laddie Montague, Jr. Law Library at Penn State Dickinson Law. In addition to her library administrator responsibilities, she teaches valuable skills to first-year students as a Professor of Legal Research. Her research interests include algorithmic bias, legal history, and legal research pedagogy.