PROFESSOR MAKHLOUF SELECTED TO PRESENT AT THE 2021 AALS ANNUAL MEETING BY THE SECTION ON LAW, MEDICINE, AND HEALTH CARE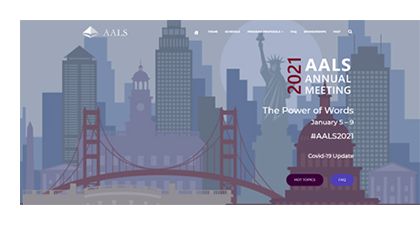 October 2020 — Professor Medha Makhlouf was selected by the AALS Section on Law, Medicine, and Health Care to present her latest research on integrating sociolegal needs screening with health care. The panel, titled "Health Care Coverage Reform in the Shadow of COVID-19," is the Section's main panel presentation at the Annual Meeting and explores how the COVID-19 pandemic has highlighted stressors in our health care system. The panelists will present their research describing how COVID-19 might affect how we think about health care coverage reform proposals.
Professor Makhlouf's presentation will describe how the COVID-19 pandemic has highlighted the need to study, develop, and finance methods of integrating health and human services. She proposes contact tracing efforts as a site for integrating sociolegal needs screening, public health protection, and publicly funded health care. She will demonstrate how integrating health and human services in contact tracing provides tangible benefits to the communities that are hardest hit by COVID-19, protects the public at large, and can serve as a model for broader integration efforts that will be a part of future health reform proposals.
---
Professor Medha D. Makhlouf is an Assistant Professor and Founding Director of the Medical-Legal Partnership Clinic at Penn State Dickinson Law. She has a joint appointment in the Department of Public Health Sciences at Penn State College of Medicine. Professor Makhlouf's research and teaching interests lie at the intersection of health law, immigrants' rights, and poverty law and policy. Her recent scholarship has been published or is forthcoming in the New York University Law Review, the Northwestern University Law Review Online, and the American Journal of Law and Medicine.